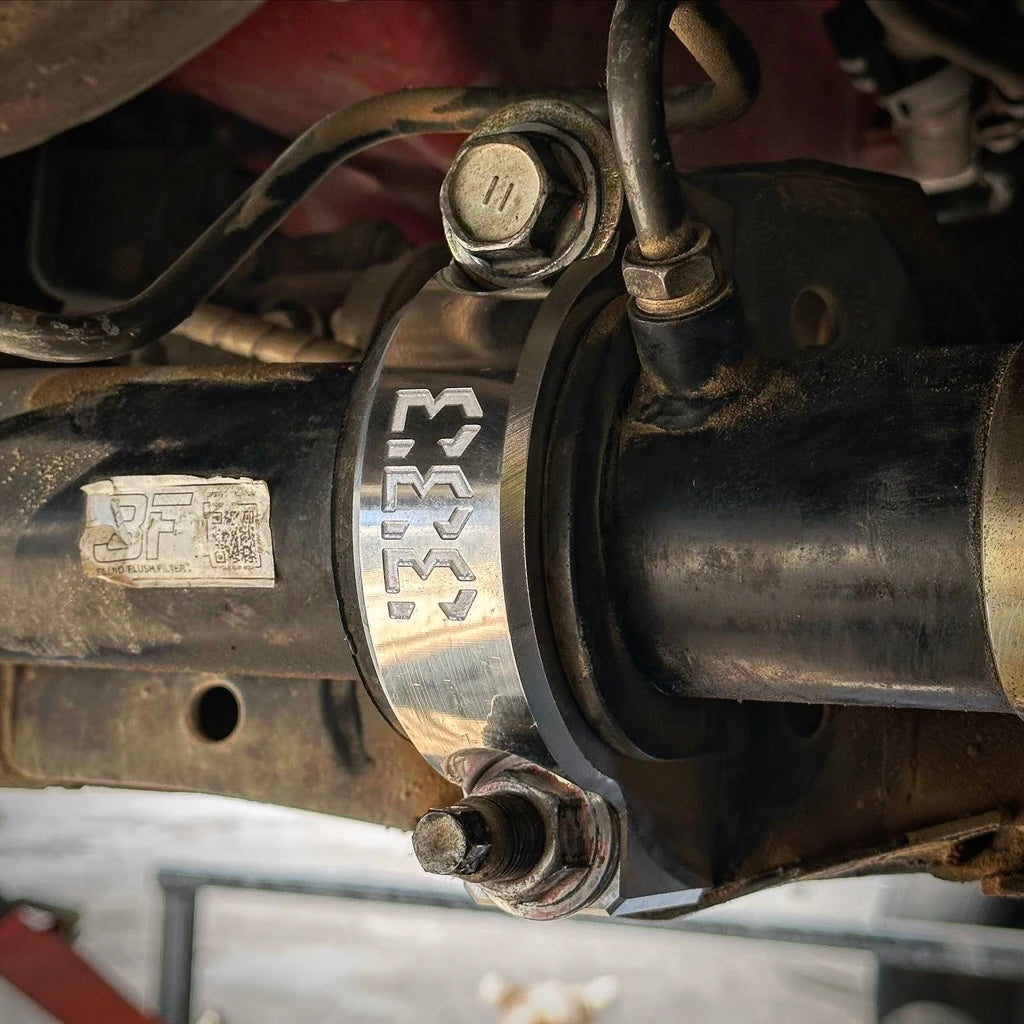 333 Fabrications
HD Billet Rack Clamp
$120.00
IN STOCK READY TO SHIP.
In our continued mission to bombproof your IFS Toyota, we have solved yet another weak point in the steering/alignment system. Stock steering "clamp" brackets work well for normal on-road applications, but they have a reputation for bending or breaking due to off-road abuse and/or increased tire sizes.
Enter the Heavy Duty Billet Rack Clamp from 333 Fabrications, designed for the 3rd Gen 4Runner, 1st Gen Tacoma, and 1st Gen Sequoia/Tundra!
Since these vehicles have a rear-mounted steering setup, the forward load against the tires is pushed rearward into the steering rack. This force causes the steering rack's vertically bolted center mount to act as a fulcrum on which the rack pivots. As a result, the steering rack "clamp" bracket becomes the weakest link in securing the steering rack. Over time and under load, the bracket will stretch and distort, causing the bushing to fit loosely around the rack. This results in sloppy steering and an unhappy driver.
To solve this problem, 333 Fab has designed a much more robust bracket from 6061 aluminum. Additionally, the beveled edge on the bushing mating surface has been removed which helps secure the bushing from wandering horizontally. 
The HD Billet Rack Clamp improves on the stock bracket in every way!
Features:
Fits: 96-02 4Runner, 95-04 Tacoma,

01-07 Sequoia,

00-06 Tundra
Easy installation with factory hardware - new washers included
CNC milled from 6061 Aluminum, with engraved

 

333 Fab logo

Withstands 1000+ lb-ft over factory - CAD analysis in photos

Roughly 

50% larger than factory bracket overall
NOTE: polyurethane steering rack bushings are recommended for best fitment and performance with your Rack Clamp. We offer Total Chaos bushings as an option with your kit. There are other options out there, but these are the kits that we've had the most success with on our trucks and our customers' builds.
For Installation Instructions click HERE. Disclaimer: Warranted for off-road use only. The end user assumes all risks involved when installed.
CURRENT LEAD TIME: In stock ready to ship!