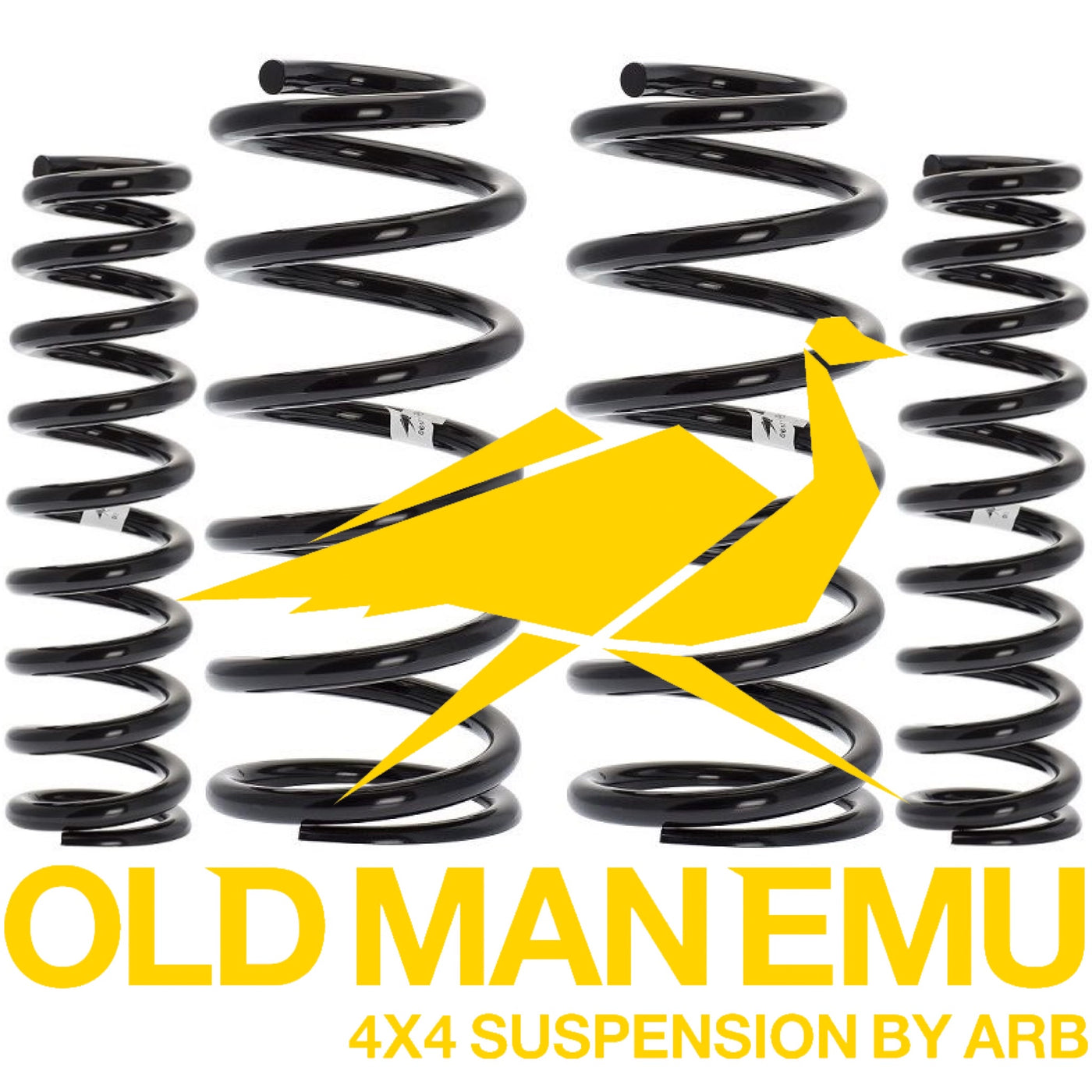 Old Man Emu
Old Man Emu Coil Springs
$214.00
Front and rear coil springs for your 4Runner, Tacoma, FJ Cruiser, or GX! Scroll down for our application guide and detailed specifications.

Please use the messenger tool before ordering if you are on a short timeline, as inventory changes on a day to day basis!
In stock:
fronts: 880 (low stock), 883 (low stock), 884, 885, 886, 887
rears: 861, 889, 890, 891, 895, 895e, 896, 898, 906
2-6 weeks out from ARB direct:
fronts: 881, 882
rears: 899
—
Manufactured from state of the art micro-alloyed spring steel for superior strength and durability
Double scragged before and after shot peening to reduce spring stress and enhance spring life
Constant and variable rate coils available for multiple applications
Formed on computer controlled, precision mandrels to ensure manufacturing consistency
Spring end configurations designed to exact specifications, guaranteeing perfect fitment to your vehicle
Finished in durable, hard wearing black powder coat
Designed and manufactured in Australia
—
SPRING APPLICATION GUIDE: The following is simply our recommendation! Confirm with your installer before purchasing.
3rd Gen 4Runner / 1st Gen Tacoma
Front coils
880: 1" lift with factory weight on front end
881: 2.5" lift with factory weight on front end
883: 2.5-3" lift with front armor (0-300 lbs)
882: 2.5-3" lift with heavy front armor (300+ lbs)
Rear coils (except Tacomas)
906: 1-2" lift with 0-150 lbs over factory weight on rear end
890: 2-3" lift with 0-150 lbs over factory weight on rear end
891: 2-3" lift with 150-450 lbs over factory weight on rear end
861: 4-5" lift with 300+ lbs over factory weight on rear end*
4th Gen 4Runner / 2nd Gen Tacoma / FJ Cruiser / GX470
Front coils
883: 1.5" lift (levels the front end with factory rear height)
884: 2.5" lift for V6 models with factory weight on front end
885: 2.5" lift for V8 models / V6 models with front armor
886: 2.5-3" lift for V8 models with front armor
Rear coils (except Tacomas)
895e: 1" lift with factory weight on rear end
895: 2" lift with factory weight on rear end
896: 2" lift with 300 lbs over factory weight on rear end
5th Gen 4Runner / 3rd Gen Tacoma / GX460
Front coils:
884: 2.5" lift with factory weight on front end
885: 2.5-3" lift with front armor (100-200 lbs)
887: 2.5-3" lift with heavy front armor (200+ lbs)
Rear coils: (except Tacomas)
889: 2.5-3" lift with factory weight on rear end
898: 2.5-3" lift with 250-500 lbs over factory weight on rear end
899: 2.5-3" lift with 500+ lbs over factory weight on rear end