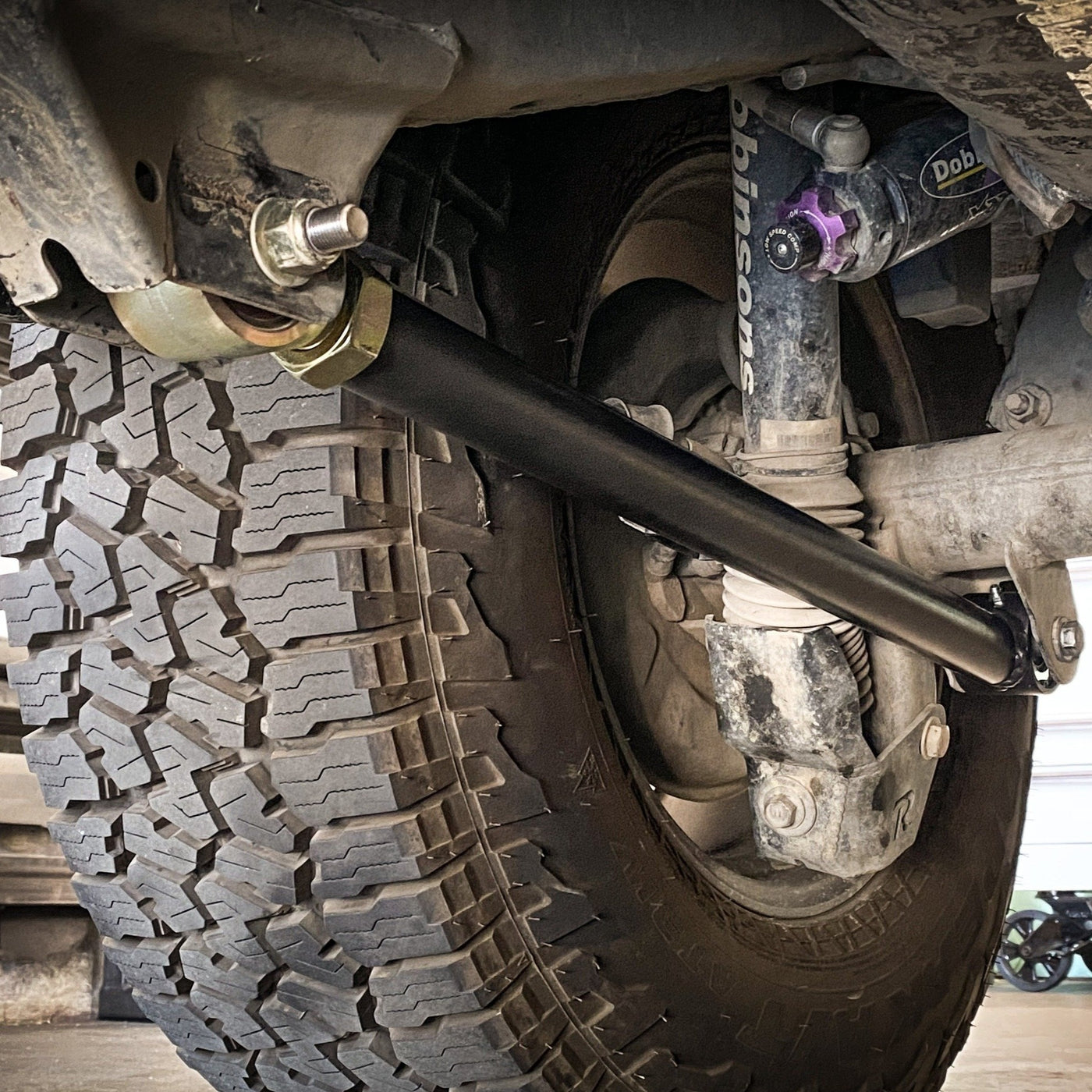 OPT OFF ROAD
Rear Adjustable Control Arms (03-21 4Runner, FJ, GX)
$849.00 $878.00
In stock ready to ship!
Performance + durability of a race part.

Manners + longevity of a stock part.
The best of both worlds.
 Over the past decade of wheeling our own 4Runner, we've experienced a few different rear arm brands, but they all left us disappointed for one reason or another. There just wasn't anything on the market that checked off all the boxes. So we decided to design our own...
The challenge we faced was building a "no compromise" set of rear arms that were better than anything else out there, while keeping build cost low enough to sell them at a similar price.
We knew that Johnny Joints were the best in the business, and that's what we wanted on our arms. But they cost $66 each (that's $528 in joints alone, for a full set). On top of that, none of them fit quite right on our Toyota trucks. So we had Johnny Joints built specifically for different models, to accommodate stock mounts and hardware (perfect fitment!)... It was a challenge, but thanks to the support of the community and the amazing folks at Rock Jock 4x4, we pulled it off.
Description:
Thick-walled DOM steel:
No more breaking and bending rear arms! 1.625in tube lowers, 1in tube uppers for the best compromise between strength and clearance throughout travel.
Wrench flats for easy adjustment and torquing of the lock nuts.
Powdercoated textured black with etched-in OPT logo.
Adjustable, offset design:
Correct your pinion angle to prevent premature u-joint wear and

vibrations 

(if you have a lift then this applies to you).

Move rear axle position for better tire clearance.

Offset joint on one end for better clearance of the oversized joint throughout travel. Lifted trucks tend to have clearance issues at full droop due to the very tight design of the factory axle mounts.
Johnny Joints® throughout: 
Sealed, greasable flex joints with ultra-low maintenance 

and none of the clanking, moaning, or squeaking of 

polyurethane, heims, and other flex joints

. They're serviceable and easily rebuildable, so it's money saved in the long run.
More articulation than stock, polyurethane, heims, and other flex joints. Johnny Joints have an impressive 34-42 degrees of articulation depending on the joint (

other brands claim up to 33

).
Custom machined for our Toyota trucks (perfect fitment with stock mounts and hardware). To our knowledge, these are the first and only set of rear uppers and lowers that utilize nothing but Johnny Joints! If you aren't familiar with their reputation, click

here

 (short version: they're the best).
Pricing:
Upper Control Arms: $359
Lower Control Arms: $519
Full Kit, Uppers & Lowers: $849 ($29 bundle discount)
Timeline: In stock ready to ship!
Install Help: Watch Timmy the Toolman's Install Video HERE (this video was for the 3rd Gen 4Runner kit, but the majority of it all still applies).
FAQs:
Is hardware included?
No, we had these Johnny Joints custom built so they are specifically sized for our factory bolts! This helps keep your cost lower and makes installation easier.
 Why no adjustable panhard bar?
Adjustable panhard bars are proven to be less effective than a Panhard Correction Kit, and more expensive at that! We prefer to let people save money where they can, so for now we are not offering adjustable panhard bars. We recommend installing a PCK to solve both the axle recentering issue AND the geometry issue. Per eimkeith: "The Panhard Correction Kit returns the panhard bar to horizontal (per original design), eliminates the need for an aftermarket adjustable panhard bar to recenter the axle, and in most cases (up to 4 inches of lift) raises the roll center for improved handling..."
Without a poly/rubber bushing at one end, shouldn't I worry about damage to my truck's lower link mounts?
No! We designed the lower arms to include one narrow joint (for articulation) and one wide joint (for cushioning). The 'wide' model JJs have as much built-in cushion as a conventional poly bushing, due to the 2-piece construction of their proprietary urethane bushings. Regardless of your setup, we recommend installing a Lower Link Reinforcement kit on any trail rig, as the potential for mount damage increases the more you upgrade the truck and push the limits.
What should I use to grease the joints?
Any standard Moly Grease will do just fine, but Rock Jock 4x4 has a proprietary Moly Grease that is available in our Rebuild Kit menu.