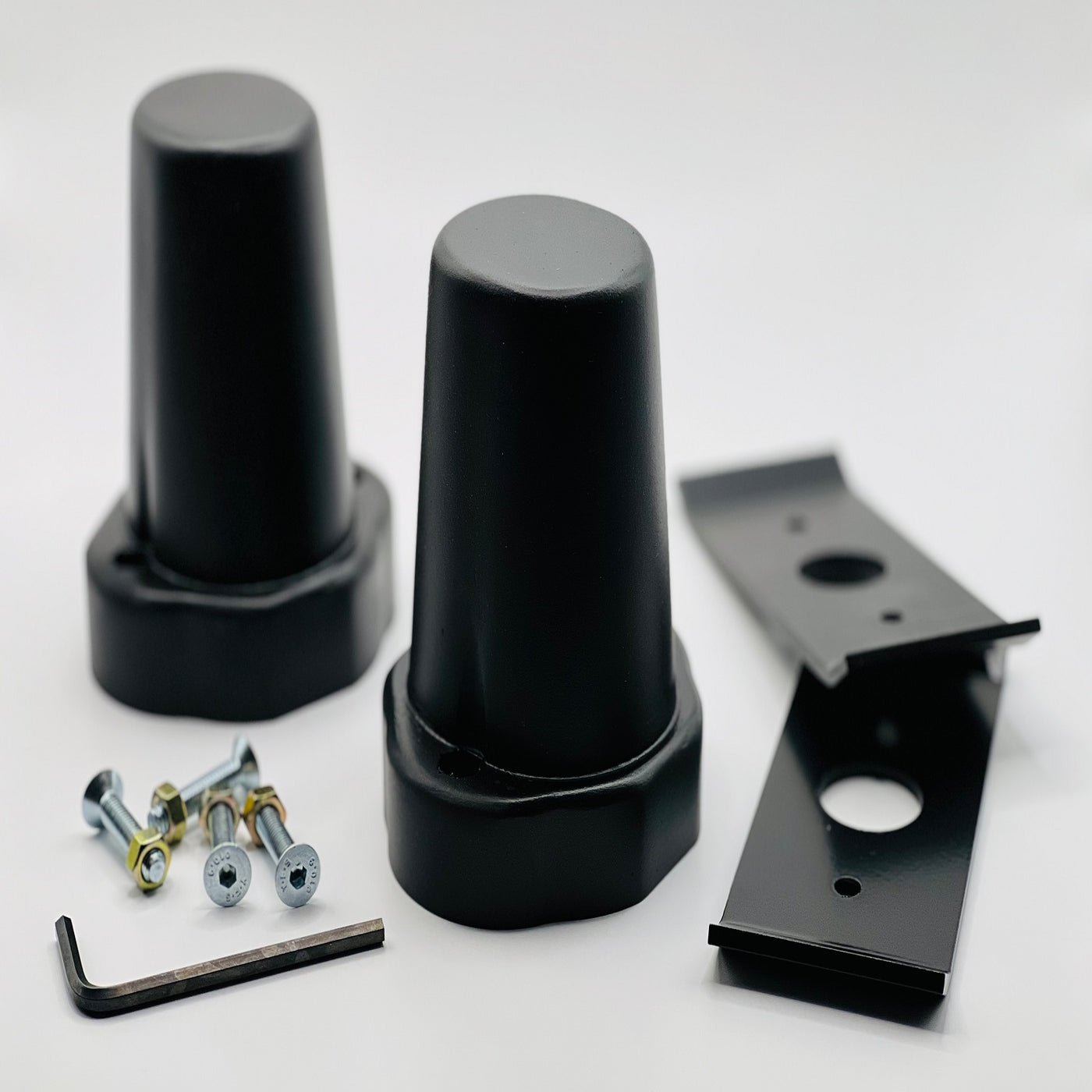 DuroBumps
4.25in Rear Bump Stops (95+ Tacoma, 00+ Tundra)
$237.49 $249.99
IN STOCK READY TO SHIP
DuroBumps are quality made in the USA with dual durometer (hardness) rubber, to deliver smooth, progressive damping that significantly reduces hard bottom-outs and allows for greater control and comfort. OEM bump stops tend to feel rock-hard on contact. DuroBumps eliminate that harshness.
Installing the DuroBumps DBR425TU is the equivalent of using a 2" block spacer with OEM bump stops. The DBR425TU limits wheel-up travel by 2" compared to OEM bump stops and is designed for trucks with a rear lift of 2"+ when fully loaded, or a shock length of 10". (For lifts of less than 2" we offer a 3.5" version)


Compatibility: 95-22 Tacoma, 00-06 Tundra (95-04 Tacomas will require a shock tab to be added to the axle if you order a flip kit)
Recommended Lift / Shock Length: 0-3+ inches lift, for 10 inch shock (equivalent to OEM bump stop w/ 2" block spacer)
Deflection / Compression: 0.9 inch @ 1500 lbs
View install instructions HERE

Features and benefits

Improved handling – Dual durometer rubber allows DuroBumps to act as a secondary coil spring, with smooth engagement that progressively increases compression load in a predictable fashion.
Mounts in OEM location – Easily bolts into the OEM location to ensure a proper fit with no modifications.
Reduced tire rub – Reduced wheel-up travel means less tire rub in the wheel wells and reduced driveshaft contact on the OEM gas tank skid.
Misalignment corrected – The rear OEM bump stops are not aligned properly to the rear axle from Toyota. OEM bump stops are actually misaligned by approximately 1". DuroBumps addresses this issue by designing the proper offset so DuroBumps contacts the rear axle tube centered as needed.
Increased suspension life – DuroBumps greatly extends the service life of other suspension components by absorbing the shock load applied from suspension bottom-outs. They absorb the impact, saving your critical suspension components from excessive wear and extending service intervals to shocks, upper and lower control arm bushings, and panhard bar bushings.
Small, compact, application specific – Designed for specific truck models, No "universal fit" spacers required.
Smooth and silent – Unlike Hydro bumps, DuroBumps are whisper quiet on contact.
Premium bump stops – DuroBumps are proudly made in the USA from the highest quality raw materials.
Provided mounting hardware – Every set of DuroBumps comes with JIS 10.9 zinc-coated hex head metric bolts and single-use thread locker, to ensure a strong, secure fit.
Note: For off-road use only. By installing these aftermarket bump stops, the user assumes all risk and liability. DuroBumps are not designed for towing applications. For more information, click here. Seller will not be held liable for any damages or loss associated with the installation or use of this product for any reason.