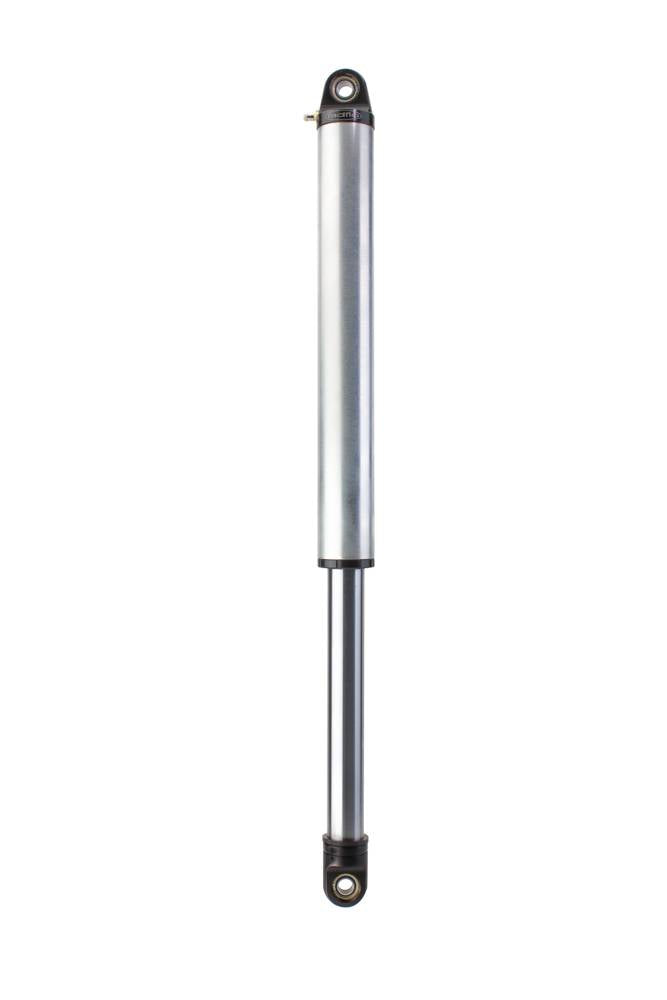 Radflo
2.5 Air Shocks - Radflo Suspension
$580.00
Easily shave weight from the suspension on your lightweight vehicle application without giving up the performance and control you need to stay ahead. The versatility and simplicity of air shocks is becoming increasingly popular among rock crawlers and other lightweight vehicle applications. Similar in function to coil-over shocks, they support the vehicle weight and dampen suspension motion. Spring rate and ride height can be tuned by adjusting internal nitrogen pressure and oil volume.
The ultra-compact size is extremely easy to fit, and the economical price is impossible to ignore. Versatile performance serves multiple functions and costs less. Whether used alone to suspend and dampen your lightweight vehicle or as a secondary spring carrier on more advanced setups, our air shocks are an economical alternative to single rate coil-over shocks.
Lightweight design provides significant weight savings and reduces unsprung mass. The extra large alloy steel piston rod provides exceptional strength while displacing more fluid to reduce overall weight. Multi-direction, triple lip sealing system prevents oil contamination while ensuring excellent gas and oil retention. Simple and reliable construction surrounded by a superior finish.
Radflo air shocks feature a 2.0 inch or 2.5 inch mirror polished body manufactured from SSID steel tubing. A clear cadmium finish provides the highest level of corrosion resistance. Chrome plating is also available. Velocity sensitive valving automatically adjusts to terrain for improved control, handling and comfort. Radflo's exclusive Freeflo racing piston utilizes adaptive damping technology to automatically match shock performance to surface conditions.
Multi-stage compression and rebound damping characteristics can be independently customized to suit your vehicle setup and driving preferences. Completely rebuildable, serviceable and tunable for virtually unlimited service life. Because all shocks wear out eventually, Radflo designed every single component to be easily serviced or replaced. Even the individual valve shims can be changed to fine-tune damping performance. Their highly experienced technicians can perform these services, or you can service the shocks yourself for immediate results.
Built to order, average build time of 0-3 weeks.

Product Details:
Product Type: Off Road Air Shock
Bearing Size: 0.5 Inch
Travel Length: 8 - 18.0 Inch
Body Diameter: 2.5 Inch
Body Material: SSID Alloy Steel Tube
Body Finish: Clear Cadmium Plating
Body Caps/Eyelets Material: CNC Machined 6061 Aluminum
Body Caps/Eyelets Finish: Black Anodized
Mounting Hardware: Universal Spherical Bearing And Hardware
Rod Shaft Diameter: 1.625 Inch
Rod Material: Mirror Polished Steel
Rod Finish: Chrome Plated
Rod Guide Material: CNC Machined Bronze
Rod Guide Finish: PTFE Coating
Piston Type: Radflo Aluminum Freeflo Racing Piston
Seal Type: Rebuildable Combination Quad-Ring and Lip Seal
Service Status: Consumer or Factory Serviceable
Valving Type: Velocity-Sensitive Deflective Disc
Valving Tuning: Consumer or Factory Tunable
Valving Adjustment: Self-Adjusting
Oil Type: Radflo High-Temp Foam Resistant Suspension Fluid
Pressurization: Nitrogen Gas
Pressure Amount: 200psi
Sold Individually