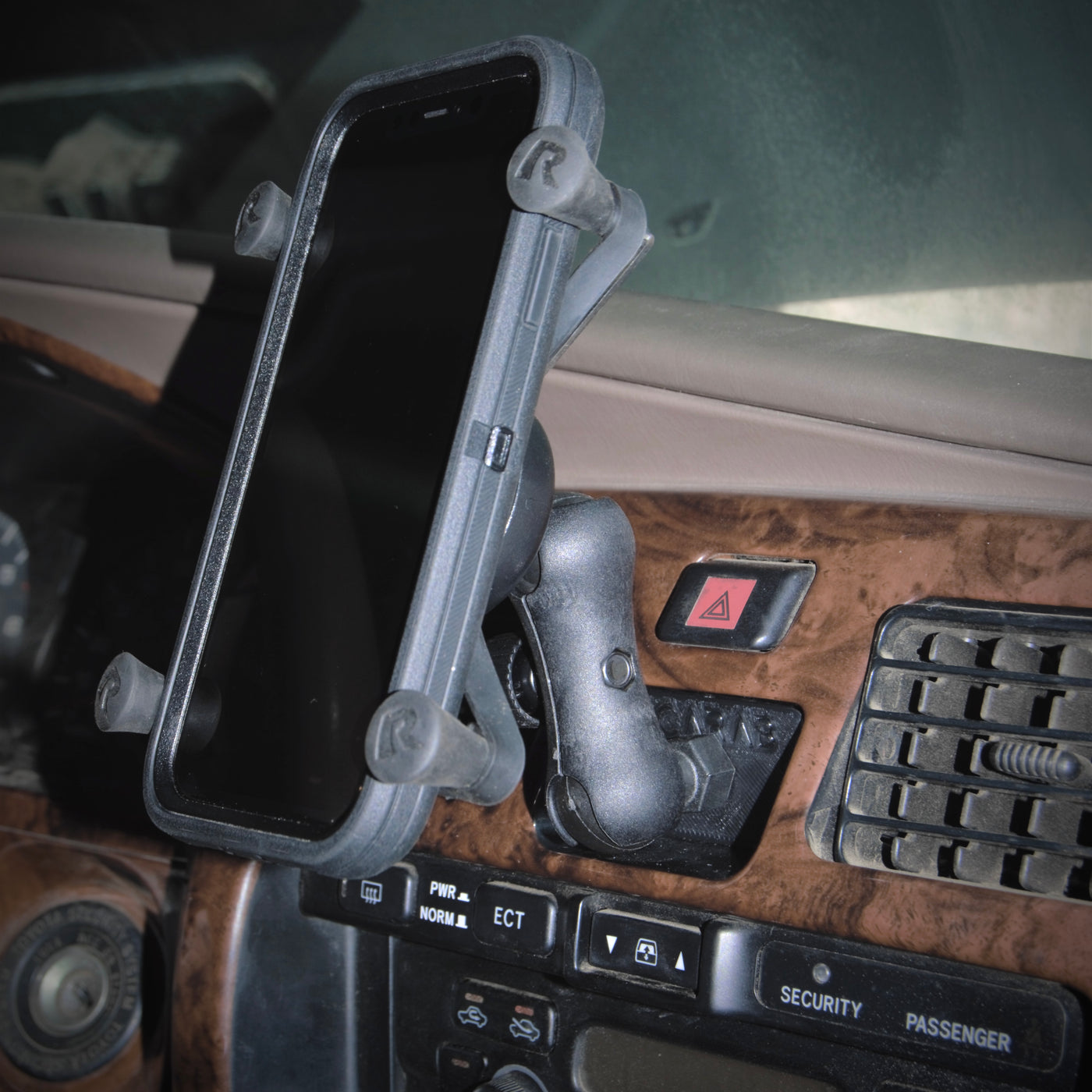 Scarab Offroad Technologies
3rd Gen 4Runner Phone Mount
$45.00
In stock ready to ship!
Getting tired of your twenty year old analog clock flickering on and off in your 3rd Gen 4Runner's dash? Waiting for an innovative way to integrate your smartphone into your vehicle, while preserving the classic interior aesthetic? Wait no longer!
The Scarab Offroad 3G4R Phone Mount utilizes your factory clock's original space, and converts it into one of the most bombproof non-invasive phone mounts on the market. Our unique design is compatible with most RAM® Mount / Quad Lock phone mounting components, giving you a wide variety of attachments to choose from and personalize your dash! Our design caters to both variations of the 3rd gen 4runner dash bezels, by reverse engineering the factory clock's clips and slotting into place with a satisfying click! Installation is a breeze for advanced mechanics & tinkerers alike.
NOTE: does not fit left-hand mounted clock style. Center-mount only at this time!
Our Kit Contains:
1x Scarab Clock Replacement Block
1x Scarab Dash-Bezel Faceplate
1x 1" RAM® Tough-Ball™ (M10-1.5 x 25mm stud)
1x Mounting Nut (pre-installed in Replacement Block)
1x Scarab Offroad and Opt Offroad slap sticker
You will need to purchase separately: a RAM® X-Grip (Size B), or a Quad Lock Phone Kit (1" Ball), or other 1" ball joint compatible mounting system.
We are fully aware of how fragile some of the older dash bezels can be (especially the wood-grain), and have ensured that our design distributes the weight of your phone across multiple components of the dash! Our proprietary parts are 100% 3D printed out of PETG (extremely durable and heat resistant) with our customized gyroid infill pattern. This ensures that our components are strong yet pliable, molding into your dash bezel without any excessive strain.
INSTALL NOTES: Do not overtighten block! Use loctite to prevent future loosening. This product has not been tested for use with iPad or Monitor mounts due to the excess weight and force on the dash bezel. Proceed with the usage of these systems at your own risk, as we are not sure how the dash will handle additional weight.