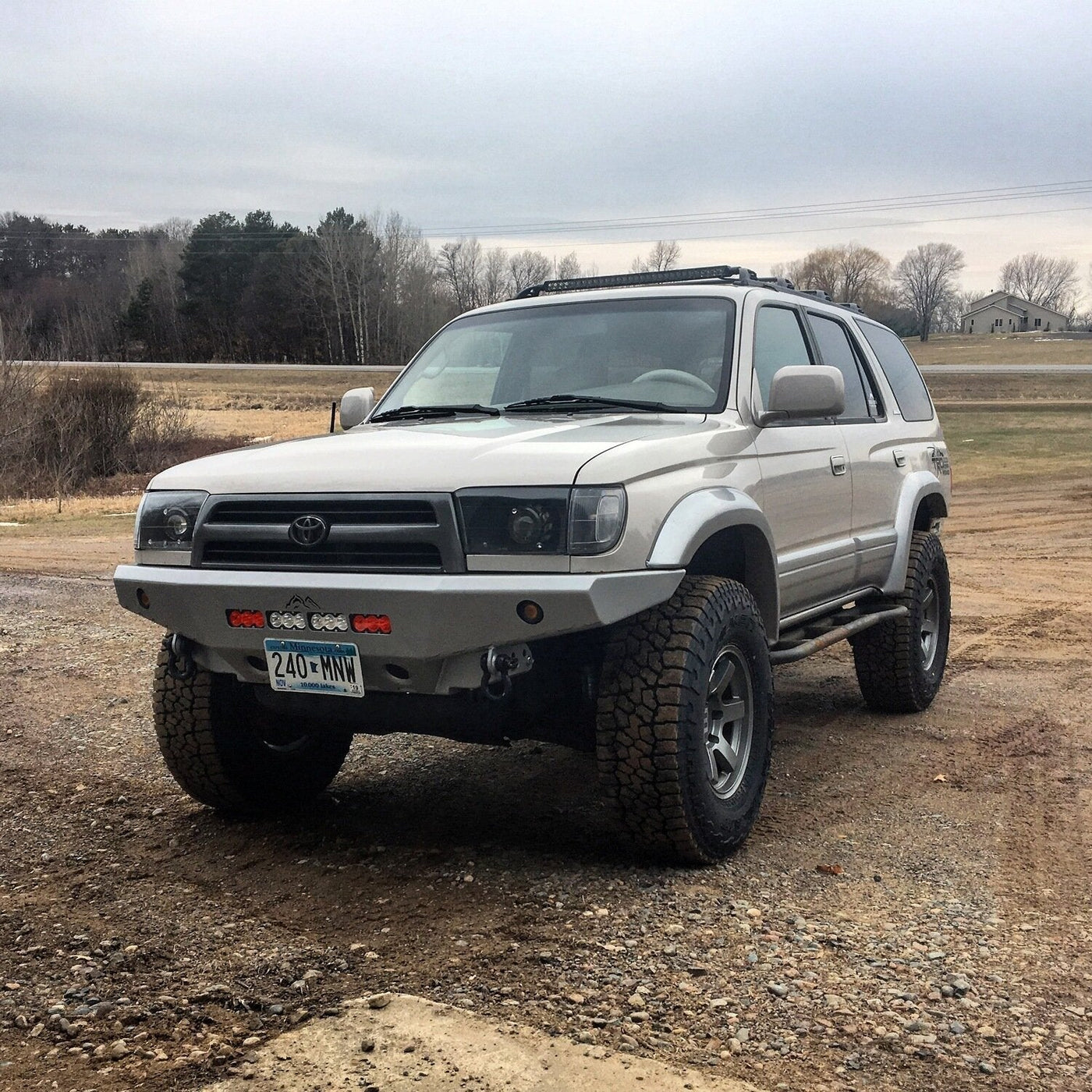 True North Fabrications
96-02 3rd Gen 4Runner Alpha Front Bumper - Welded
$1,095.95
Info to know before you order:
This is

 

NOT A WINCH BUMPER. There is no room or mounting points for a winch inside the bumper.
In order to get the tightest fitment and strongest mounting design possible, there is some modification required. You will have to trim 2 inches off the front of the frame rails on the vehicle. This will not reduce the integrity of the frame. After cutting, clean and coat the cut area with some spray paint to prevent any rust issues.
This bumper will not work with body lifts without leaving a gap. It will work with stock height and suspension lifted vehicles.
There may be small imperfections on the surfaces of the parts, such as small areas of surface rust or shallow scratches caused during the manufacturing or shipping processes.

 
A little about the bumper:
We wanted to be able to offer the best fitment possible so we took our design a step above all the other fabrication companies out there and had the front of the truck laser-scanned! This allows us to model the bumper within our cad programs using a virtual representation of the truck that is accurate to within .005 inches!
The frame mounting plate, winch plate, and skid supports are all 7 gauge HRPO steel. The inner main vertical plates and underwing supports are 3/8" thick steel. Shackle mounts are 1/2" steel. All other sheet metal parts are made of 11 gauge HRPO steel. All tubing is 1.75 OD 11 gauge ERW steel.
We realized that these bumpers are going to be mounted on 20ish-year-old vehicles and the chances of each and every one of them having a perfect frame with no previous front-end damage are slim. So in order to offer the best fitment possible, we made all the mounting points slightly oversized. This will give you a little adjustability when mounting. Depending on how far you need to adjust you will possibly need to use washers as shims between the bumper and the frame. New bolts and washers are included.
Weighs roughly 80 lbs. Any grille guard tubing will add to this.
Lead time: 12 Weeks. This is only an estimate and may occasionally be slightly longer or shorter depending on the workload and availability of parts. This does not include time in transit after shipment. Please contact us for updates on your order. 
Shipping: $299 Commercial Address, $399 Residential Address. Free local pickup in Sarasota, FL is also available. If you are outside the lower 48 please contact for a shipping quote.