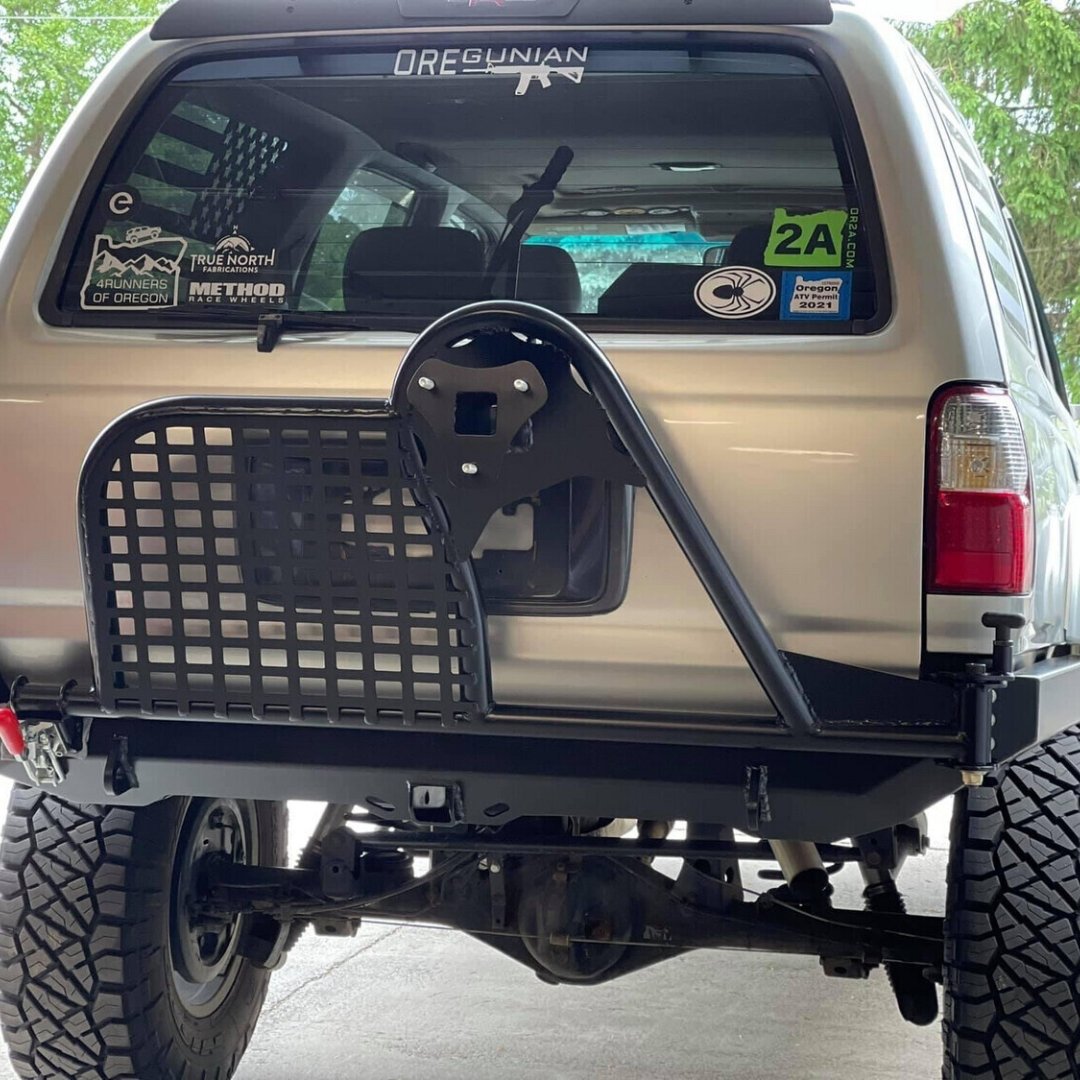 True North Fabrications
96-02 3rd Gen 4Runner Rear Plate Bumper - DIY Kit
$674.95
Info to know before you order:
THIS IS A DIY (DO IT YOURSELF) KIT!

 

It is shipped as multiple pieces and the customer welds it themselves.
There may be small imperfections on the surfaces of the parts, such as small areas of surface rust or shallow scratches caused during the manufacturing or shipping processes.
The bumper is intended for off-road use only. There is no tow capacity rating. 
A little about the bumper:
Most DIY bumper kits include dozens of small flat pieces of metal and require hours of lining up, welding, and grinding, which can be incredibly frustrating and time-consuming. We set out to design a DIY bumper kit unlike any other. All the parts are laser cut and press bent with slotted and tabbed edges. This means it requires a fraction of the welding and grinding compared to other kits. With the built-in tabs, the bumper pieces line up perfectly and don't require you to consistently be checking measurements. You don't even need to have the bumper on the vehicle to be able to tack it together!
We wanted to be able to offer the best fitment possible so we took our design a step above all the other fabrication companies out there and had the front of the truck laser-scanned! This allows us to model the bumper within our cad programs using a virtual representation of the truck that is accurate to within .005 inches!
Materials: The frame mounting brackets are 1/4" hrpo steel. The center section, swingout attachment plates, and side support braces are 3/16" hrpo steel. Sides and end caps are 10 gauge (0.1345") hrpo steel. Shackle mounts are 1/2" hr steel with a 1" hole and are welded through to the frame brackets. Crossbeams between frame bracket and hitch are 2x2x3/16 square tubing. Hitch is 2.5x2.5x3/16 square tubing.
We realized that these bumpers are going to be mounted on 20ish-year-old vehicles and the chances of each and every one of them having a perfect frame with no previous damage is slim. So in order to offer the best fitment possible, we made all the mounting points slightly oversized. This will give you a little adjustability when mounting. Depending on how far you need to adjust you will possibly need to use washers as shims between the bumper and the frame. New bolts and washers are included.

 
Works with stock height/suspension lifted vehicles as well as 1/2", 1", 1.5", and 2" body lifts! Brackets are sized for 2" body lift with a modular tab/slot design to move the frame mounting plate up/down to your preferred height. Simply cut/grind off the unused section of the brackets below the mounting plate (cut marks already indented on edges of brackets). However, it should be noted that vehicles with body lifts will look a little odd as the brackets will be protruding up to 2" below the rest of the bumper.
The base bumper weighs roughly 95 lbs. 
A little about the swingout:
Max recommended tire size is 35".
Wheel bolt pattern is 6x5.5 with M12x1.50 studs. Lug nuts not included.
The license plate will need to be relocated. 
The square tubing connecting the wheel mounting plate to the swingout is cut oversized and is adjustable. So depending on your wheel offset you can cut it to the length you need. It can also be angled to your preferred position.
Materials: The hinge brackets, wheel mounting plate, and swingout wheel support plate & braces are 1/4" hrpo steel. The latch bracket and logo brace are 3/16" hrpo steel. Round tubing is 1.75" OD x 11 gauge ERW. Square tubing is 2.5x2.5x3/16.
Hinge is a dual shear design. Main pin is a 3/4" alloy steel shoulder bolt (stronger than grade 8). Uses oil embedded high load flanged sleeve bushings. The outer tube that the swingout welds too is 1.75" OD x 3/8" wall DOM tubing. Mounts to the bumper using six 1/2" alloy steel bolts or can be welded. 

 
Latch has a 2000 lb holding capacity and safety lock.
T-handle spring plunger offers added security and locks swingout in the closed position. Also locks swing out when opened to 100°.
Swingout weight including latch, hinges, and all hardware is around 40 lbs.
Lead time: IN STOCK This is only an estimate and may occasionally be slightly longer or shorter depending on the workload and availability of parts. This does not include time in transit after shipment. Please contact us for updates on your order.
Shipping: $100 FLAT RATE to the lower 48. Free local pickup in Sarasota, FL is also available. If you are outside the lower 48 please contact for a shipping quote.