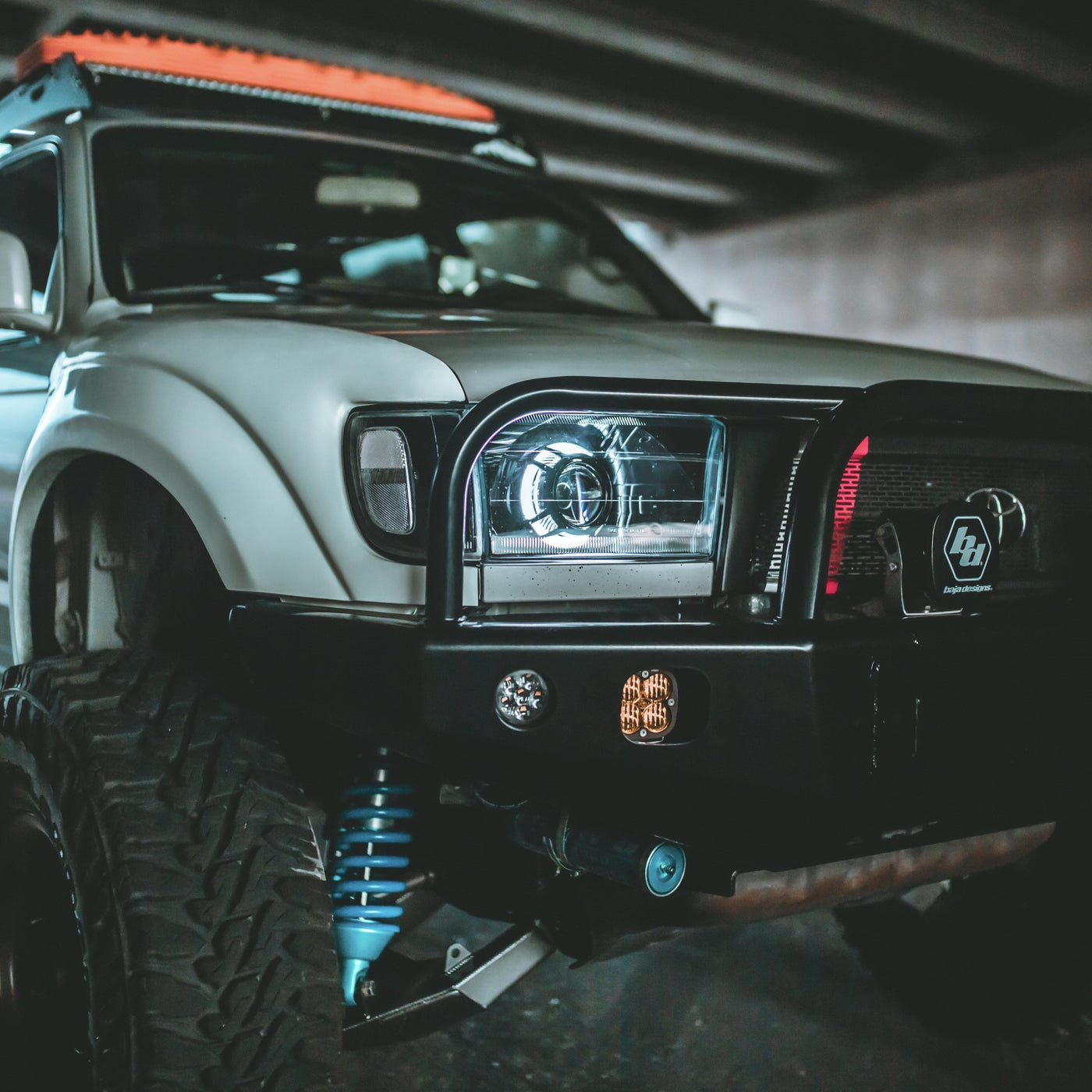 TEQ Customs LLC
96-02 4Runner LED Retrofit Headlights
$500.00
This is the BUILT TO ORDER menu. Tap HERE to view IN STOCK options!
The latest in LED technology, retrofitted into your 3rd Gen 4Runner headlights... custom-built to your specifications! Projector headlights are one of the most-well regarded mods on older vehicles, as it makes such a large impact on every day use of your vehicle. And now that LED projectors have surpassed the previously-used HID projectors (check out that second photo!), we can avoid the added headaches that can come with HIDs. (No ignitors or ballasts that tend to fail with off-road abuse; no warm-up times; more reliable chipsets...)
TEQ Customs starts with their very own LED projectors installed into aftermarket clear glass lensed headlights, with the housing color of your choice. Then your preferred shrouds and halo configuration are installed. Custom paint and color-matched options also available for the housings and shrouds. Send us an email or IG/FB/website message for any custom options and we will work with you directly!
Directions:
1. Select a housing:
-Chrome (+0)
-Black (+50)
2. Select a shroud:
-Apollo 1.0 (+0)
-Apollo 2.0 (+0)
-Panamera 2.0 (+100)*
-Turbine (+150)*
Select a halo configuration:
-None
-Front (+100)
-Rear (+150)
-Both (+250)
*Panamera 2.0 and Turbine shrouds include built-in rear halos, so your halo choices are a little different with these shrouds. Under halo configuration, choose between "None" (built-in rear halo only), or "Front" (built-in rear halo AND front halo).
All custom headlights have an average build time of 6-8 weeks. Many options in stock ready to ship! Tap HERE to view in stock options.