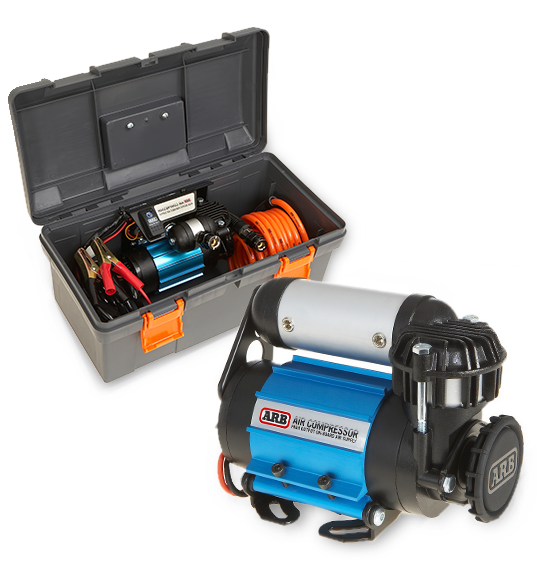 ARB
ARB 12v High Output (Single) Air Compressor: Portable Kit
$412.00 $412.00
IN STOCK READY TO SHIP!
The most popular in our range, the ARB High Output Air Compressor has been constructed entirely of lightweight, high-grade materials and is available in both portable and vehicle mounted configurations. With a class-leading flow rate, this compressor has been designed for Air Locker® activation (on-board model), fast tire inflation, and a range of other functions whether they be for work or play. The vehicle mounted kit comes with a full wiring loom and mounting hardware for easy installation, while the portable kit includes a 19ft air hose, battery clamps, inflation kit, and a durable carry case.
Additional Features
Sealed for moisture and dust resistance
Hard-anodized cylinder bore for reduced friction
Teflon-impregnated carbon fiber piston seal for maximum trouble-free life
Anodized mounting bracket dissipates motor heat and allows compressor to be repositioned 180 degrees on vehicle mounted models
Quality components for quiet operation and extra long life
Constructed entirely of lightweight, high-strength engineering-grade materials
Over-pressure safety valve equipped
Motor is internally thermal protected against extreme temperature damage
Heavy-duty MAXI fuse equipped for professional in-line circuit protection
ARB Air Compressors provide many advantages when exploring the great outdoors. Whether for inflating tires and camping accessories, running air tools, activating Air Lockers® or even re-seating a tire onto a wheel, there's a model available to suit your needs. Designed to withstand the harshest environments, each ARB Air Compressor is individually leak tested, current draw tested and flow tested under heavy load at the factory before packing. For total peace of mind, all ARB Compressors come with a comprehensive 2-year warranty. To further increase longevity, ARB Compressors are also rebuildable, with spare parts readily available from our extensive network of ARB authorized dealers.
IN STOCK READY TO SHIP
Part Number: CKMP12