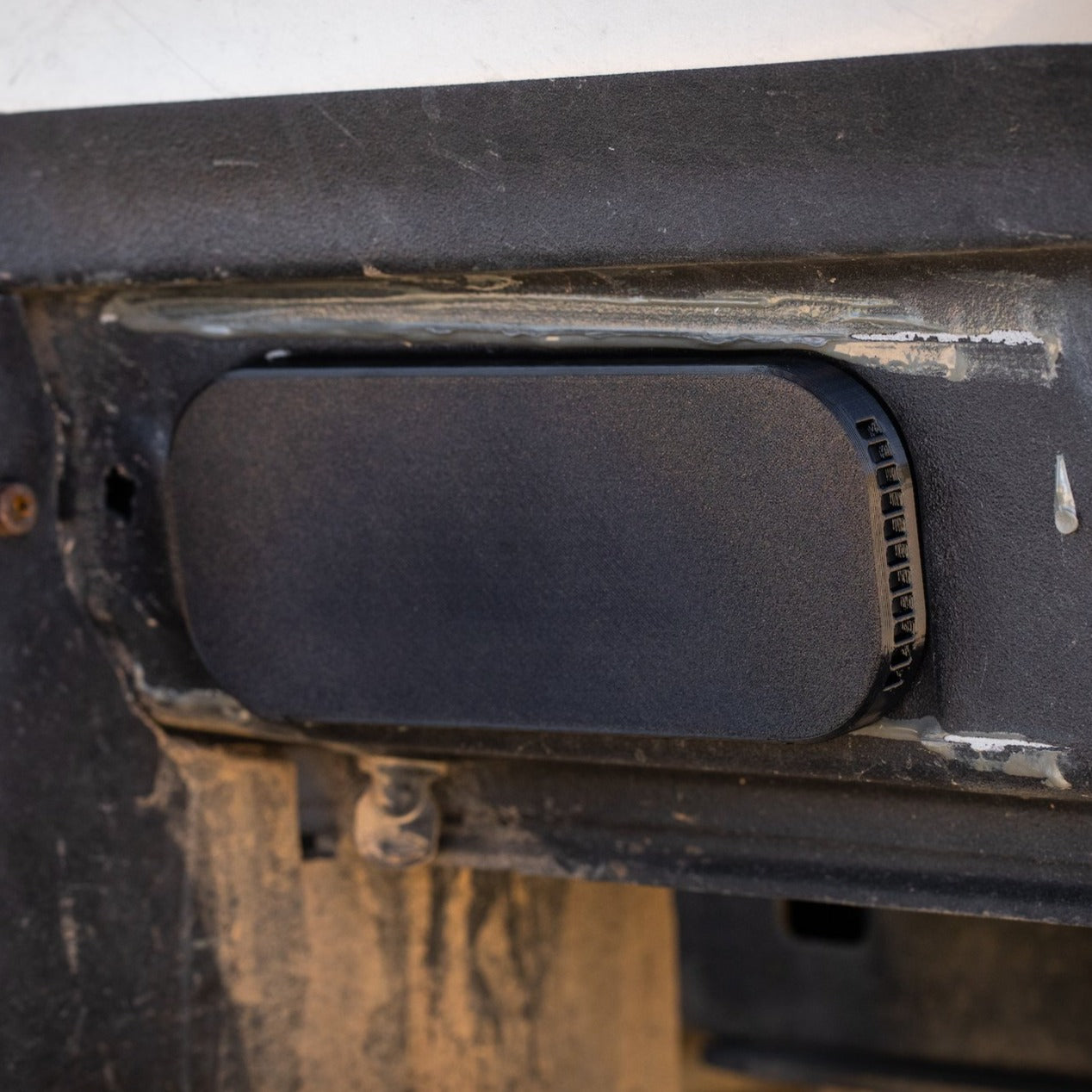 Four Cam Engineering
Cabin Vent System
$64.99
Compatible with 1996-2002 4Runners, 2016-2023 Tacomas, 2010+ 4Runners, GX460s, FJ Cruisers, and 2001-2007 Sequoias.

So you hit the trails last weekend, and now you get to deal with that routine dust all over your interior. Or maybe you played in some water and now your trunk is soaked. Windows were up, vents were on 'recirculate'... how does this always happen?

Toyota designed their vehicles with cabin pressure vents, to allow the air pressure to escape when you close your doors or run the AC/heater. Without these vents, your doors would be hard to shut and your AC would barely blow. The air has to go somewhere after all! But the problem with these one-way vents is that they are down low on your rear quarter panels, and they are flimsy. It only takes a few years of off-road use to break them down. Then those one-way valves become open windows for air, water and dust to get in.

Four Cam Engineering has finally solved this problem for us, and created the Cabin Vent Solutions for Toyota SUVs.
MENU INSTRUCTIONS:
Choose Your Model: Pick the year and model of your vehicle application.
96-02 4R & 01-07 Sequoia kits include one Vent assembly (driver side)
2010+ 4R/GX & FJC kits include two Vent assemblies (driver and passenger sides)
Choose Your Kit: Level 1 and Level 2 kits available for all models. Kits are preassembled and ship ready to install, for your convenience.
Level 1: Includes a Four Cam Vent Cover and OEM Cabin Vent
Level 2: Includes a Four Cam Vent Cover, OEM Cabin Vent, and Four Cam  Filter Module
PRODUCT DETAILS:
Four Cam Vent Cover
3D Printed from PETG, which was chosen for its durability, quality, higher melting point and weather resistance
Designed with water drain holes and air slots, to allow for door seal and AC function while providing maximum protection
OEM Cabin Vent
Genuine OEM, brand new from Toyota to replace your current Cabin Vent
When installing the new Vent, it is normal to encounter some resistance. Press evenly on the vent until four audible clicks are heard, as it is a snug fit and should not move around once seated.
Four Cam Cabin Vent Filter
Filter Module consists of activated charcoal inside a 3D printed filter housing that mounts to the back of the OEM Cabin Vent
Filters are removable, washable, and replaceable. 6 month cleaning intervals recommended, depending on usage. Extra care is advised when removing Filter to ensure the module does not bend.
Filter Module is all black. Red filter in photos is for prototyping and demonstration only.
Warranty and Disclaimer Information
All kits are protected under Four Cam Engineering's Lifetime Warranty. In the unlikely instance that your kit fails, we will send you a new kit free of charge. Covered failures include breakdown of layer adhesion, material degradation, warping from extreme heat or extreme color fading (minimal fading is normal for plastic parts in general). For Vent & Cover Kits (with or without filters) that come pre-affixed, Warranty also covers failure of adhesion or loss of cover under normal off-road driving due to failure of adhesion.
Warranty does not cover failure of adhesion or vent cover falling off due to a glue or method that customer used during installation. We do not replace covers or vents due to damage from off-roading, incorrect install, or misuse. While we experienced a total prevention of dust during our testing phase and to this day, it would be impossible to guarantee this for everyone. There are simply too many variables across individual vehicles.
As with all 3D printed parts, some minimal irregularities in the finish are common. We implement extensive quality control measures, but occasionally visual characteristics will still be present. Characteristics may include: faint streaks or lines imprinted on the face of the cover, layer lines on sides of cover, stringing, or loose filament strands.