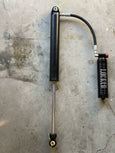 Locked Offroad
Locked Offroad 2.5 Smooth Body Shocks
$429.00
10" and 16" shocks still in stock, the rest is subject to ETA posted below.
Locked Offroad's smooth body shocks are designed to handle anything you can throw at them. They are custom built for your application, using some of the highest quality materials to ensure a long shock life and reduce environmental wear. 

Built using Viton seals, 4130 Chromed polished shafts, Black Zinc coated steel shock bodies, 6061 Machined Aluminum coated in a deep black anodizing. Finned Reservoirs and 22-point Compression Adjusters included.
Locked Offroad stands behind their products 100% and offer a one year warranty on non wearable parts and a 6 month warranty on wearable parts.
2.5" smooth body shocks are sold individually and are available in all stroke lengths 8-18":
8": extended 24", compressed 16"
10": extended 28", compressed 18"
12": extended 32", compressed 20"
14": extended 36", compressed 22"
16": extended 40", compressed 24"
18": extended 44", compressed 26"
Intended for off-highway use, shocks are built to order. Next batch due mid-March.