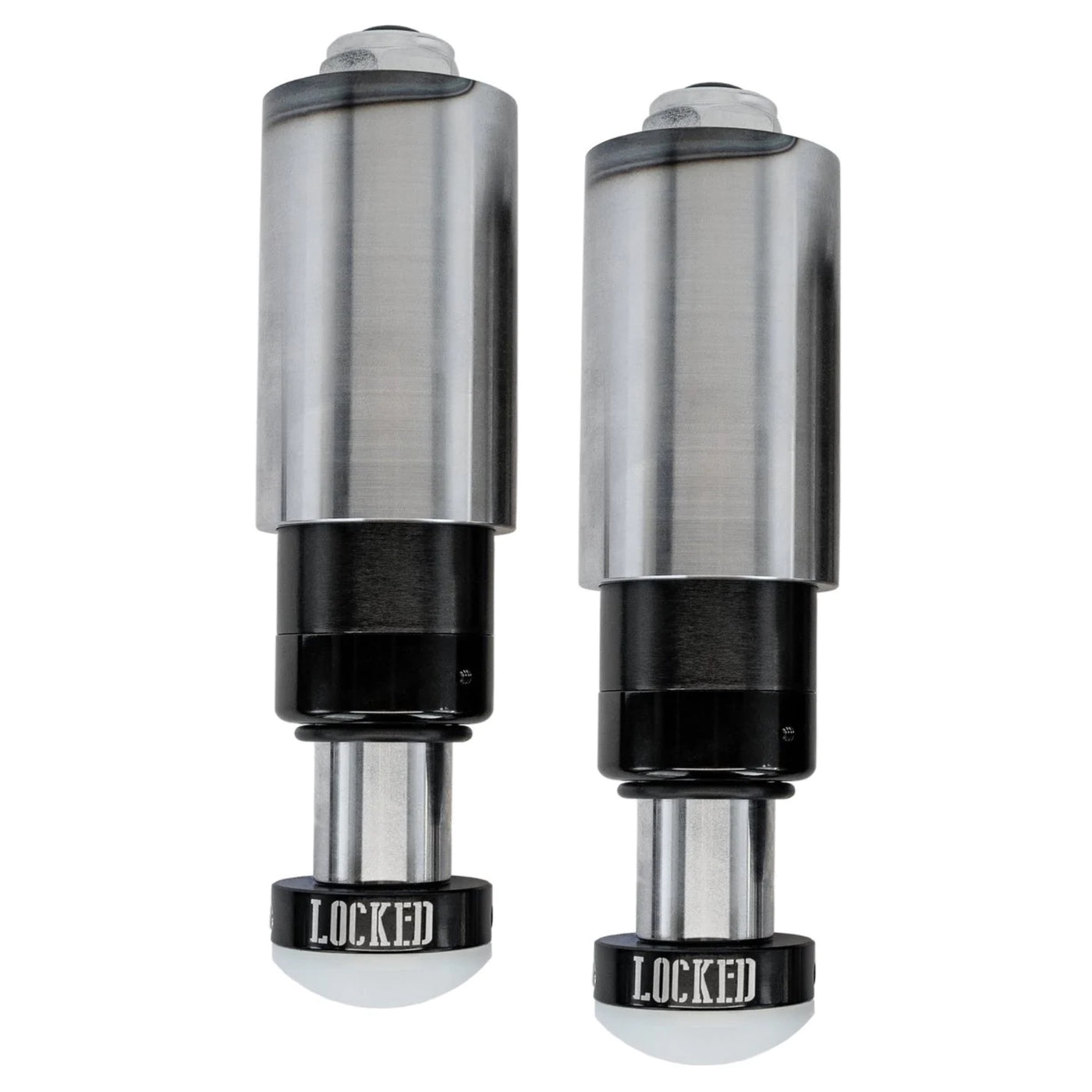 Locked Offroad
2.0 Bump Stop Kit: Pin Style
$460.00
Back in stock!
Locked Bump Stops are designed to handle anything you can throw at them. They are built out of some of the highest quality materials to ensure a long shock life and reduce environmental wear.
Built using Buna seals, 4130 Chromed polished shafts, Black Zinc coated steel shock bodies, 6061 Machined Aluminum coated in a deep black anodizing.
Locked Offroad stands behind their products 100% and offers a one year warranty on non wearable parts and a 6 month warranty on wearable parts.
Intended for off-highway use. Bump stops are usually in stock, but contact us for accurate and updated timeframes as some products are on-shelf ready to ship.
WHAT YOU GET:
PAIR OF 2.0 BUMP STOPS with 2" and 4" travel options.
PAIR OF MOUNTING SLEEVES
BUMP STOP:

2" diameter body
1.26" diameter shafts polished to a mirror finish, ensuring extended seal life.
2" bump stop has a collapsed length of 9.75" and extended length of 11.75"
4" bump stop has a collapsed length of 11" and extended length of 15.5"
Shraeder cap mounts directly to the body of the bump stop, not the valve, creating a stronger seal, keeping everything clean and dry.
O-ring on shaft gauges your travel
Delrin contact pad is mounted with a single flushmount design, protecting your suspension and insuring quiet operation, with no metal on metal contact.

MOUNTING SLEEVES:

Heavy-duty mounting sleeves, come ready to weld

2.44" outer diameter of sleeve

Pin-style cans hold the bump stop around the entire diameter, providing 360° coverage without any pinching like traditional pinch-style cans
Sleeves built to allow room for shrinkage during the welding process
Indexing holes are laser cut and keep bump stop securely in place within the can