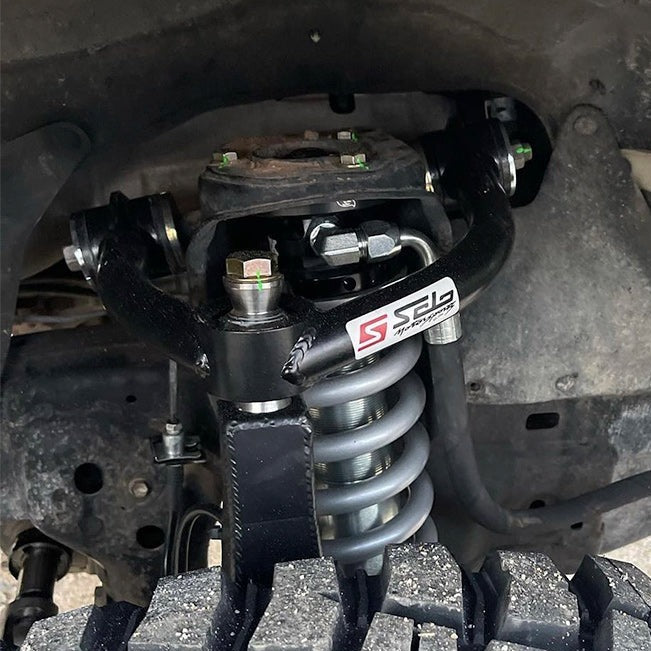 Solo Motorsports
Mid Travel Upper Control Arms / Toyota Menu
$915.00
Our Toyota Upper Control Arms are designed are designed to fix the caster when aftermarket lift shocks are installed. These UCAs reduce "wandering" in the vehicle's steering when lifting your truck 2″-3″.
The Mid-Travel Upper Control Arms are built with a 1″ uniball to get rid of the weak factory ball joint. They are CNC-cut from high-grade U.S. steel and feature high-strength tubular design. Our UCAs combined with any aftermarket coilover shock will allow for up to 1″ of additional wheel travel. CNC spindle adapters convert the factory ball joint to a 1″ uniball to allow for maximum wheel travel.
Solo Motorsports Tubular UCAs come with polyurethane bushings and fit 2 wheel drive and 4 wheel drive models.
Toyota Upper Control Arms Specs
High misalignment spacers to increase wheel travel over stock
Machined 1″ Uniball spindle adapters
Works with factory coil over shocks (with or without lift spacers)
Works with aftermarket coil over shocks
Increase in positive caster geometry for better handling
Polyurethane bushings with thick inner sleeves
1" Uniballs and 5/8″ Misalignment Machined Spacers
Black Semi-Gloss Powder coated finish
Includes
Fully-Fabricated Tubular Upper Control Arms
Polyurethane Bushings
All necessary hardware and misalignments for installation
Variations
1996-2004 Toyota Tacoma
1996-2002 Toyota 4Runner
2000-2006 Toyota Tundra
2000-2007 Toyota Sequoia
2005-2021 Toyota Tacoma
2003-2021 Toyota 4Runner
2007-2014 Toyota FJ Cruiser
2003-2009 Lexus GX470
2010-2023 Lexus GX460
Add-ons
Extended Stainless Brake Lines from frame to calipers