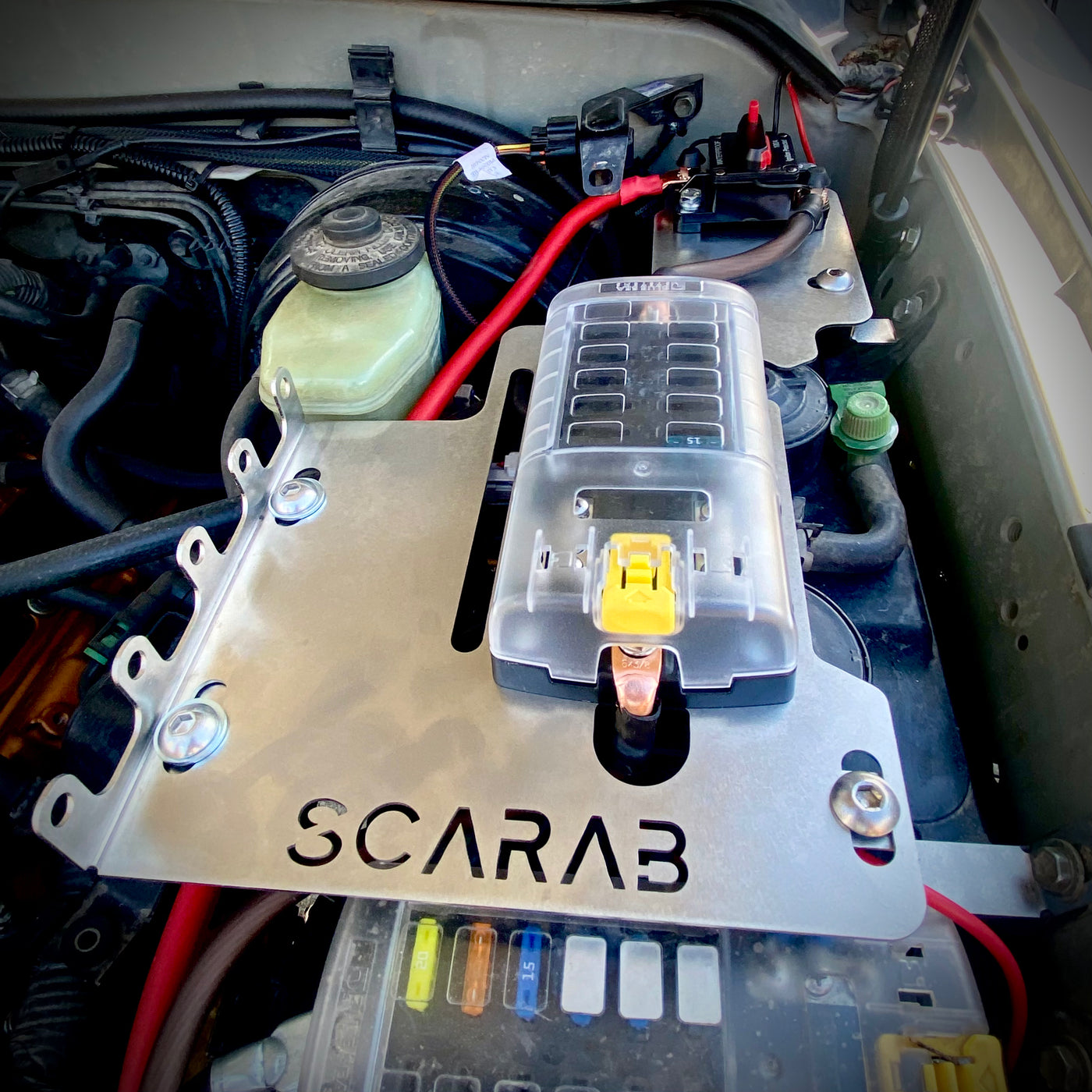 Scarab Offroad Technologies
Modular Fuse Panel Kit (96-02 4Runner, 95-04 Tacoma)
$110.00
Lead time 2-4 weeks.
From light bars to air compressors, electrical upgrades are usually one of the first and most common additions to an offroad vehicle. But the engine bay can quickly become a rats nest of wiring, creating clutter and potential fire hazards.
We here at SCARAB have created one of the first solutions available on the market for 3G4R and 1GTC users, and are quite proud of what we have created.
The Under-Hood Fuse Panel is here to save the day! Our modular fuse panel is designed to fit all models of 3rd Gen 4Runners and 1st Gen Tacomas. It is even designed to work around early model evap boxes, late model brake boosters, and clutch master cylinders! (This excludes early models that have the vertical cylindrical evap canister near the driver side firewall/fender corner of the engine bay; nearest to the brake booster/clutch master cylinder.)
We went through many design iterations to ensure that our board fits snuggly among the stock engine components, and works alongside other popular modifications such as hood struts and under-hood light kits without impairing your hood from closing.
Our boards feature a slightly angled surface that bolt directly into stock threaded holes in your fender, to ensure water and debris roll off with the vibrations of your vehicle.
All of our brackets are cut out of stainless steel using a fiber laser, and contain elongated bolt holes to allow for adjustments to be made specific to each install, to ensure a perfect fit on your vehicle every time!
Our boards are available for purchase in their bare state (unpopulated) to allow for users to wire up their own custom modifications, or pre-populated with a Fuse Block, Breaker, and custom cabling to connect the board up to your battery!
Our design features space for:
1x Deep Sea 12 Fuse Auxiliary Fuse Box
1x 100 Amp Circuit Breaker
5x Traditional Relays
Plus extra space to house additional boards or a circuit open relay