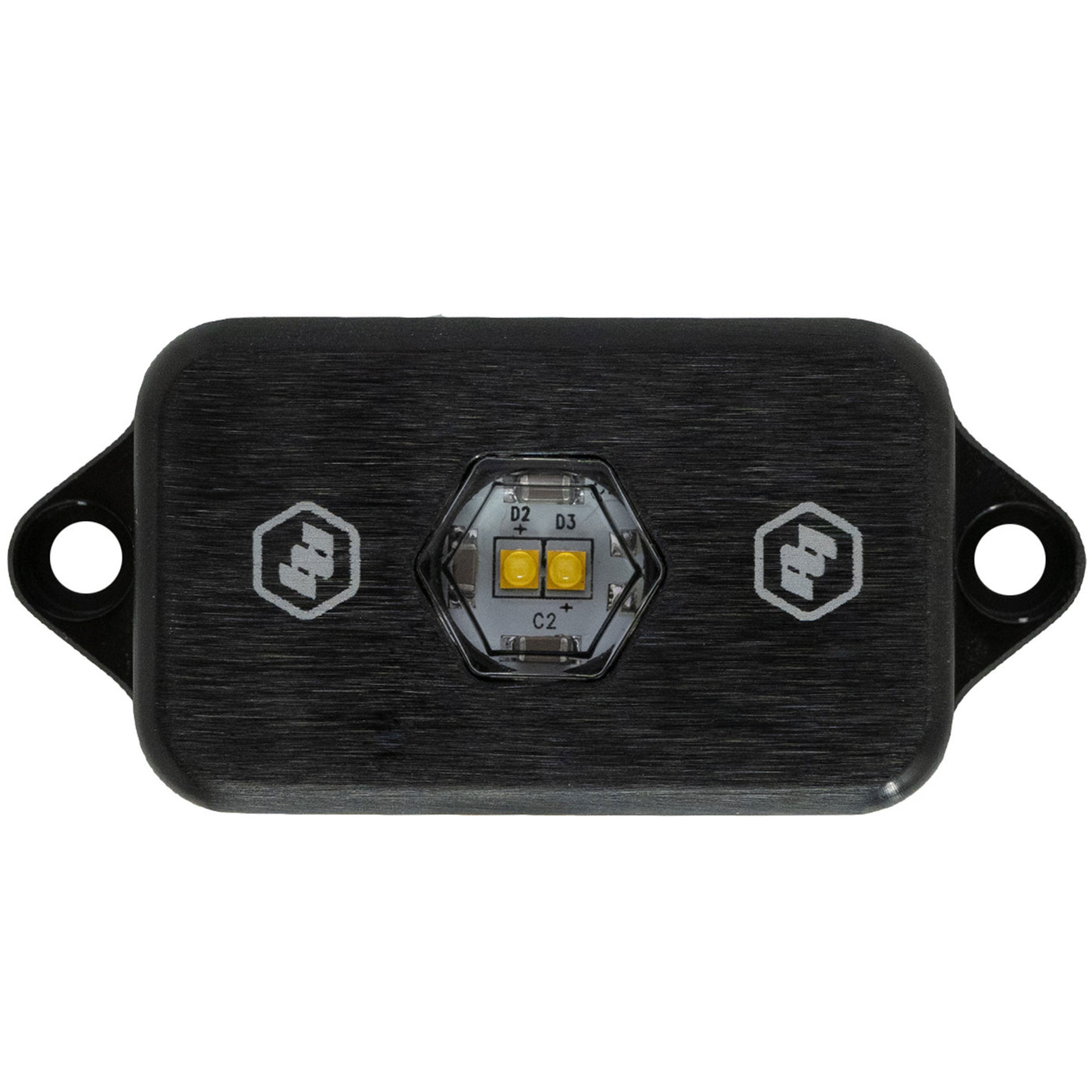 Baja Designs
Rock Light Menu
$64.95
Off-road driving can be difficult enough during the day, but why limit yourself to day driving? With rock led lights from Baja Designs, nighttime rock crawling easily becomes a good time. Headlights are great for lighting up what is in front of you, but a great rock light is necessary for proper after-hours wheel placement. These 400-lumen LED lights are waterproof and can be mounted virtually anywhere. All that is needed is 12-volt power. They have 180-degree optics to illuminate your wheel wells or anywhere else you need a bright and smooth light.
Full Kit: BD's Universal Rock Light Kit takes the guess work out of buying wiring and trying to figure out how to pin relays. All of the lengths are pre-cut to reach all four corners of your small to mid-sized vehicle with some wiggle room on each lead to route the wiring any desired way. This kit includes four 400-lumen rock lights and wiring for a truly turnkey kit.
Caution: Rock Light can get very hot when used for long periods of time. Please use caution when handling or installing.
Satisfaction Guarantee – 30-Day Money Back Guarantee
Limited Lifetime Warranty – Complete Purchase Protection
uService – Replaceable Lenses And Optics
ClearView – All The Light, Right Where You Need It
MoistureBlock – Waterproof, Rain Proof, Submersible
CopperDrive – Only LED Driven At 100 Percent
5000K Daylight – Less Driver Fatigue, Natural Color
Length (in.) 2.7
Height (in.) 1.2
Depth (in.) 0.45
Lead times: most options are in stock ready to ship, some are 8 weeks out! Use the chat feature below for quick and accurate lead times on the specific product you are looking for. Thanks!