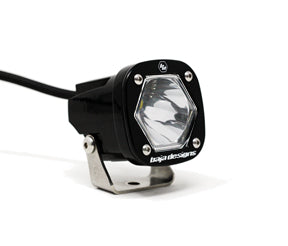 Baja Designs
S1 Light Pod Menu
$118.95
Designed from the ground up, our new S1 fills the shoes of a large light in a small package! The S1 utilizes a highly specialized reflector and LED combination to outshine the competition. With the 2.1-inch length, width, and height, the S1 is highly versatile for any application that is in need of light. The sleek design of the S1 makes it stand out from the competition.
Delivering unbeatable brilliance in a small package, the S1 has a trim body made from lightweight aluminum and a rugged polycarbonate lens, so regular bumps and bruises won't lead to cracks or breaks. Whether you're looking for a light to drive off of, or something to light up a campsite the S1 exceeds any and all expectations!
An industry-first, 30-day Satisfaction Guarantee and Limited Lifetime Warranty is included for the ultimate in purchase protection. Wiring harness included with Paired kits! 
Which Light Pattern should I pick?

Driving/Combo: Maximum trail coverage in a single light. The Driving/Combo pattern is equipped with both Driving (42-degree) and spot (9-degree) optics to provide you with a smooth blend of light for both near field applications and distance (Lighting Zone 3).
Spot: A longer and narrower 9-degree beam focus for illumination further down the trail or road. The Spot pattern is designed to be used in conjunction with additional Wide Driving and/or Driving/Combo beam lights. (Lighting Zone 4 & 5).
Work/Scene: Excellent work light or "scene light" with an extremely smooth 120-degree circle that projects about 40 feet. This pattern is not suitable for driving. (Lighting Zone 7).
For more info on Light Zones and Patterns, swipe to the end of the photos above.
Satisfaction Guarantee – 30-Day Money Back Guarantee
Limited Lifetime Warranty – Complete Purchase Protection
uService – Replaceable Lenses And Optics
ClearView – All The Light, Right Where You Need It
MoistureBlock – Waterproof, Rain Proof, Submersible
CopperDrive – Only LED Driven At 100 Percent
5000K Daylight – Less Driver Fatigue, Natural Color
Length (in.) 2.93
Height (in.) 1.76
Depth (in.) 1.68
Lead times: most options are in stock ready to ship, some are 8 weeks out! Use the chat feature below for quick and accurate lead times on the specific product you are looking for. Thanks!