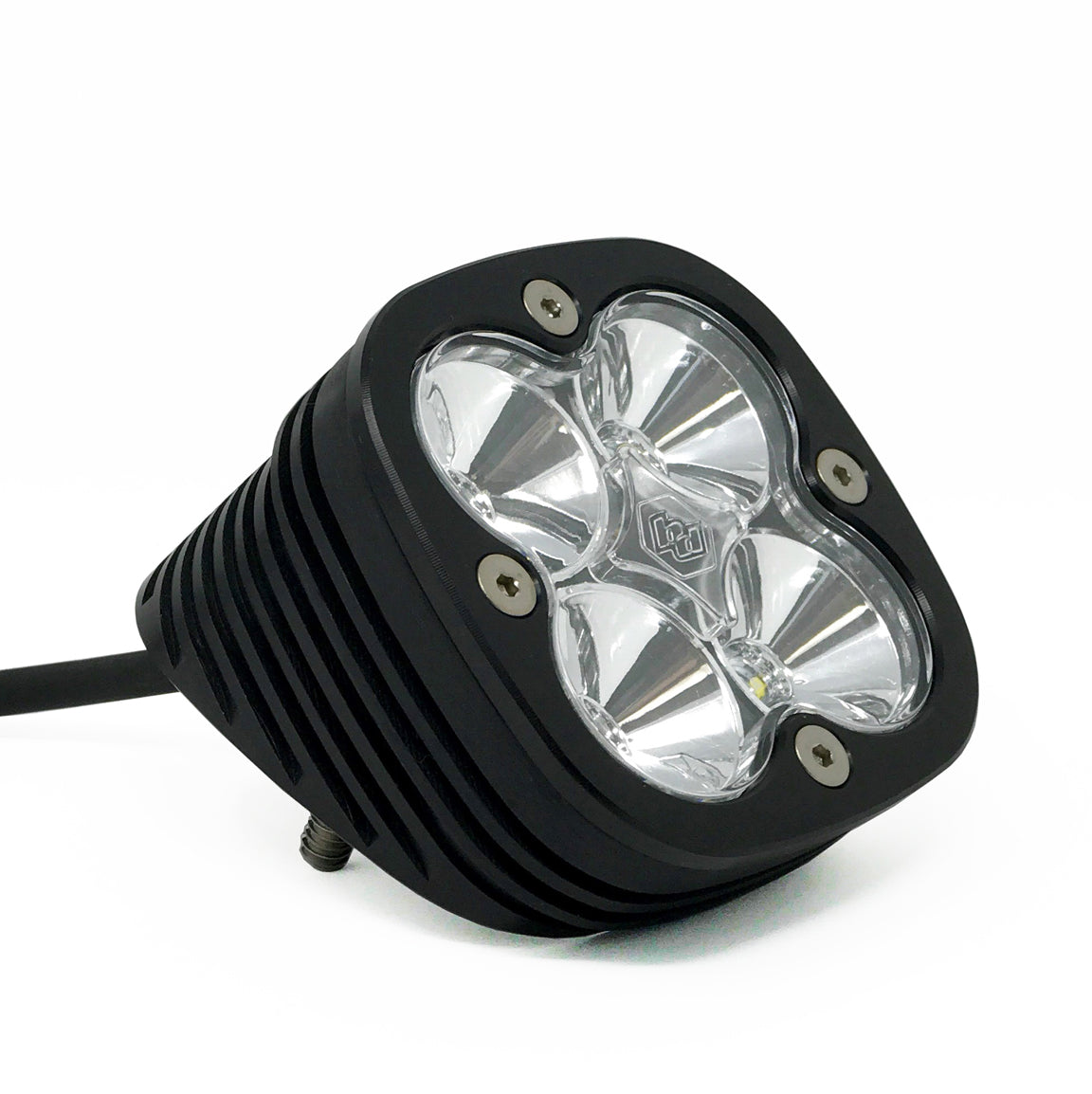 Baja Designs
Squadron Angle Mount Light Pod Menu
$179.95
Take your off-road lighting to the next level with BD's Squadron Series. With four Cree LEDs producing up to 4,600 lumens at 40 watts, the Squadron delivers the perfect mix of affordability and performance. The beam pattern on this angle-mounted pod is perfect as campsite and workspace light with an extremely smooth 120-degree arc that projects about 40ft. At just 0.75 pound, it is also incredibly light. A powder-coated housing and an anodized bezel give you serious durability and a unique style and appearance that you only find from Baja Designs. An industry-first, 30-day Satisfaction Guarantee and Limited Lifetime Warranty is included for the ultimate in purchase protection.
Which Series is right for me?
The Squadron Sport is similar in aesthetics to the Squadron Pro, but the application for the Sport varies. The Squadron Sport utilizes 4 LEDs producing an impressive 3,150 lumens at 26 watts making it ideal for near field, side/backup and scene lighting application.
The Squadron Pro packs 4,600 Lumens at 40 watts that truly annihilate the darkness of the night. Don't let this light fool you, although compact in size, this LED auxiliary light can literally blind you with brightness. The secret to Squadron Pro's brilliance is Cree LEDs, which provide 20% more reach than standard LEDs with the same power consumption. The Pro comes equipped with a sleek black gloss aluminum housing and outshines the competition through both appearance and performance.
Satisfaction Guarantee – 30-Day Money Back Guarantee
Limited Lifetime Warranty – Complete Purchase Protection
uService – Replaceable Lenses And Optics
ClearView – All The Light, Right Where You Need It
MoistureBlock – Waterproof, Rain Proof, Submersible
CopperDrive – Only LED Driven At 100 Percent
5000K Daylight – Less Driver Fatigue, Natural Color
Length (in.) 3.07
Height (in.) 3.07
Depth (in.) 2.77
Lead times: most options are in stock ready to ship, some are 8 weeks out! Use the chat feature below for quick and accurate lead times on the specific product you are looking for. Thanks!