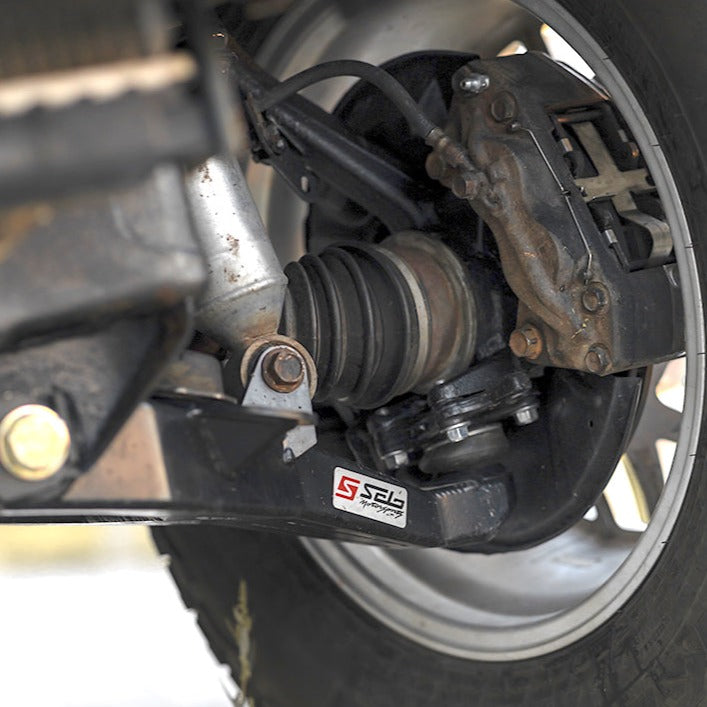 Solo Motorsports
Mid Travel LCAs / Tacoma 96-04 & 4Runner 96-02
$1,280.00
Stock Length LCA for the Tacoma (96-04, 6 lug) and 4Runner (96-02). You spoke and we listened! We've designed a full fabricated stock length LCA for optimal strength and ground clearance. With these LCAs we were able to set the lower ball joint forward 1″. This will allow you to fit a bigger tire and will gain 2-3 degrees of caster.
All plates are CNC laser cut and CNC bent out of 3/16" steel. Interlocking ribs have been added to strengthen the boxed design.
These Stock Length Lower Control Arms (LCA) will come standard with threads for the factory front bump stop and have an integrated strike pad for an air bump. The LCAs come standard with a matte black powder coated finish.
Sway Bar tabs welded in factory location. Secondary shock mounts are not available.
This kit loses the function of the factory steering stops.
Recommended grease for bushings – Maxima Waterproof Grease
Specs
Stock length
Lower Ball Joint pushed forward 1″
Recommended 33″ (35″ tire can fit, but needs modification)
2-3 degrees of caster gained
CNC laser cut and CNC bent
3/16″ cold roll steel
Boxed design for superior strength
MIG welded
Made in the U.S.A.
Stock Length LCA kit Includes
Stock length LCA (driver and passenger)
Urethane Bushings
Center Sleeves
Powder coated semi-gloss black.
Application
1996-2004 Toyota Tacoma 2WD and 4WD, 6 lug only
1996-2002 Toyota 4Runner 2WD and 4WD
1996-2002 Land Cruiser Prado KZJ95