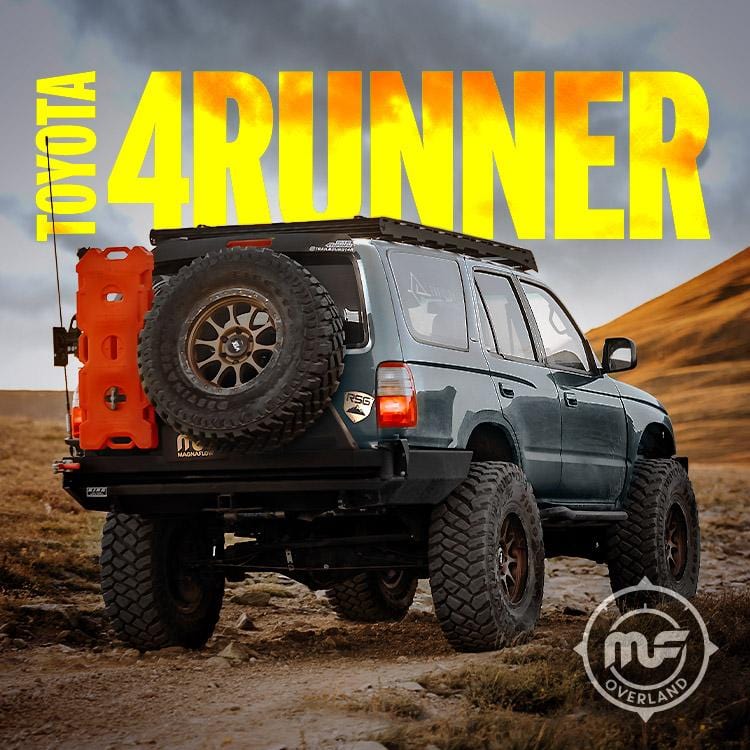 Magnaflow
3rd Gen 4Runner Overland Series Cat-Back Exhaust
$807.00 $1,126.38
FREE SHIPPING in the U.S.!
Fitment: 1996-2002 4Runner V6 3.4L
Specifications:
Type- Cat-Back
Series- Overland
Pipe Diameter- 2.5"
Exit Style- Single Passenger Side Rear
Inlet Connection Type- Bolt-On
Muffler Quantity- 2
Muffler Finish- Satin
Sound: YouTube Video
The MagnaFlow Toyota 4Runner Overland Series Cat-Back Performance Exhaust System #19538 empowers your overland rig with MagnaFlow's deep signature exhaust note and dyno-proven performance. MagnaFlow #19538 has been weight optimized and designed to provide improved ground clearance thanks to its undercarriage-hugging, mandrel bent 2.5" main piping paired with a no-tip, high-clearance passenger side exit. These features improve ground clearance, departure angles and overall utility. MagnaFlow exhaust kit #19538 was developed to be compatible with the most common bolt-on aftermarket modifications. The single straight-through muffler is augmented by a quarter-wave NDT resonator, which utilizes MagnaFlow's No Drone Technology to cancel out the undesirable frequencies of your Toyota 4Runner. This feature preserves the character of your motor's exhaust while allowing for long distance highway cruising to overland destinations without dealing with tiresome interior droning noises. Exhaust system #19538 was produced using CNC precision robotic manufacturing, enabling precise fitment and easy, bolt-on installation. The entire exhaust kit features durable, 100% stainless steel construction and is covered by MagnaFlow's limited lifetime construction warranty.