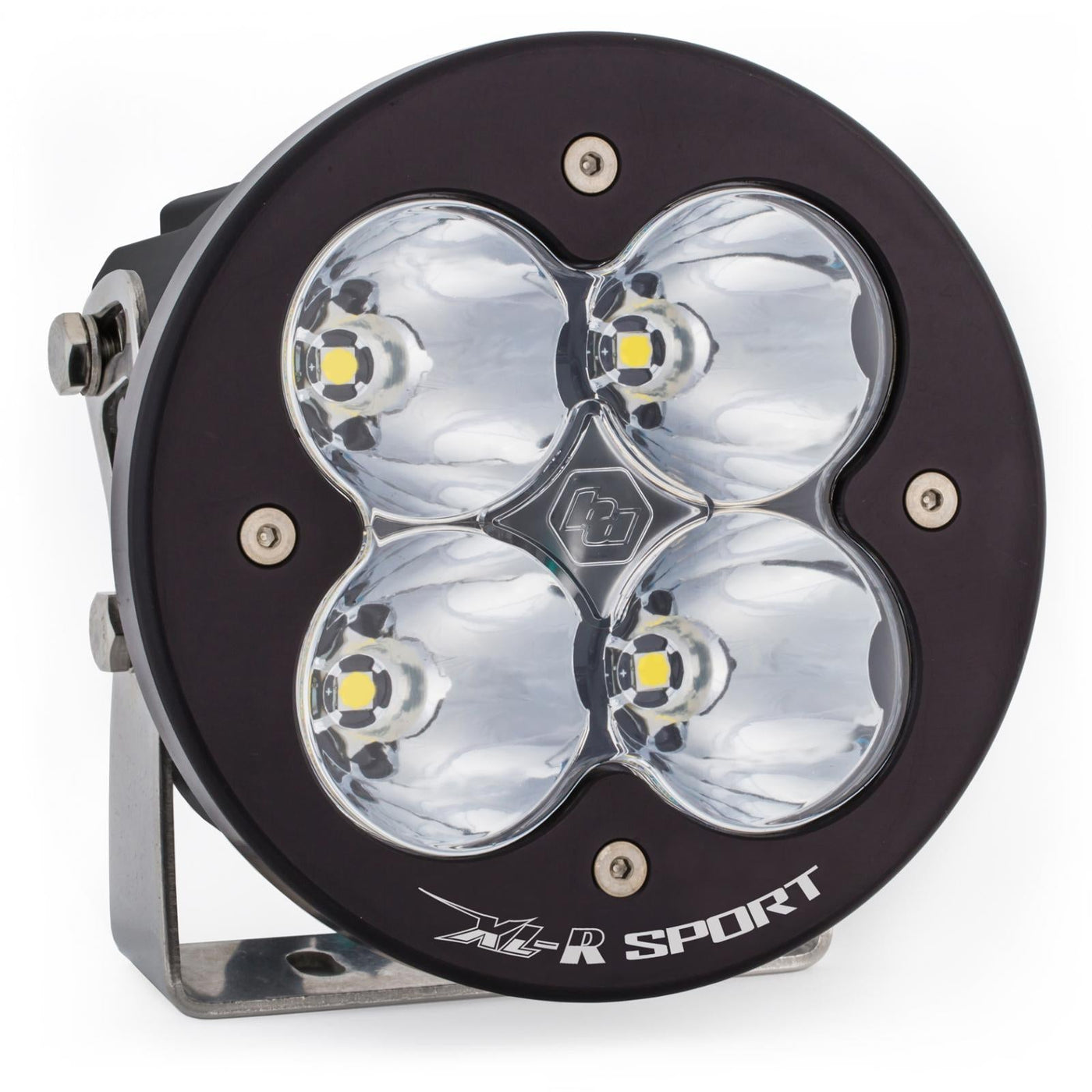 Baja Designs
XL-R Light Pod Menu
$199.95
Take your off-road lighting to the next level with BD's XL-R Series. With four Cree LEDs producing up to 4,900 lumens at 40 watts, the XL-R delivers the perfect mix of affordability and performance. At just 2.45 pounds, the XL-R is also incredibly light. A powder-coated housing and an anodized bezel give you serious durability and a unique style and appearance that you only find from Baja Designs. An industry-first, 30-day Satisfaction Guarantee and Limited Lifetime Warranty is included for the ultimate in purchase protection. Wiring harness included with Paired kits!
Which Series is right for me?
The XL-R Sport LED lights up your world in style, with the perfect combination of affordability and performance. The lights use four Cree LEDs to beam out 3,150 lumens each of daylight-quality light in a variety of beam patterns. The LED High-Speed Spotlight utilizes special reflectors to extend the light throw for long-distance visibility with the throttle on the floorboard. The XL-R Sport provides the same top of the line performance and aesthetics you expect from BD in an affordable solution.
With a 4,900 lumen count and power draw of just 40 watts, the XL-R Pro is the only single-housing LED auxiliary light on the market that has the distance of an 8-inch HID with the smooth spread of an LED. The XL-R Pro LED light utilizes our trademarked High Speed Spot reflectors providing for a longer beam pattern, and offers a 50 percent dimming feature. Perfect for enthusiasts that need a vast amount of light and are looking for something other than a light bar.
Baja Designs is proud to introduce the XL-R Racer, with 4,300 lumens. The XL-R Racer throws light an average of 40 percent further than the XL-R Pro with a High-intensity LED, housed in hard anodized and powder coat cast aluminum. Enjoy nearly 50,000 hours of bright, efficient lighting to enhance your nighttime off-roading experiences! The XL-R Racer Edition LED light utilizes our trademarked High Speed Spot reflectors providing for a longer beam pattern, and offers a 20 percent dimming feature.

Which Light Pattern should I pick?

Driving/Combo: Maximum trail coverage in a single light. The Driving/Combo pattern is equipped with both Driving (42-degree) and spot (9-degree) optics to provide you with a smooth blend of light for both near field applications and distance (Lighting Zone 3).

Wide Cornering: BD was the first to develop a pattern specifically for cornering, dust and/or fog conditions. The Wide Driving pattern offers a 42-degree flattened horizontal beam for the ultimate in comfort lighting. (Lighting Zones 1 & 2).

Spot: A longer and narrower 9-degree beam focus for illumination further down the trail or road. The Spot pattern is designed to be used in conjunction with additional Wide Driving and/or Driving/Combo beam lights. (Lighting Zone 4 & 5).

For more info on Light Zones and Patterns, swipe to the end of the photos above.
Satisfaction Guarantee – 30-Day Money Back Guarantee
Limited Lifetime Warranty – Complete Purchase Protection
uService – Replaceable Lenses And Optics
ClearView – All The Light, Right Where You Need It
MoistureBlock – Waterproof, Rain Proof, Submersible
CopperDrive – Only LED Driven At 100 Percent
5000K Daylight – Less Driver Fatigue, Natural Color
Length (in.) 5.24
Height (in.) 5.24
Depth (in.) 3.65
Lead times: most options are in stock ready to ship, some are 8 weeks out! Use the chat feature below for quick and accurate lead times on the specific product you are looking for. Thanks!