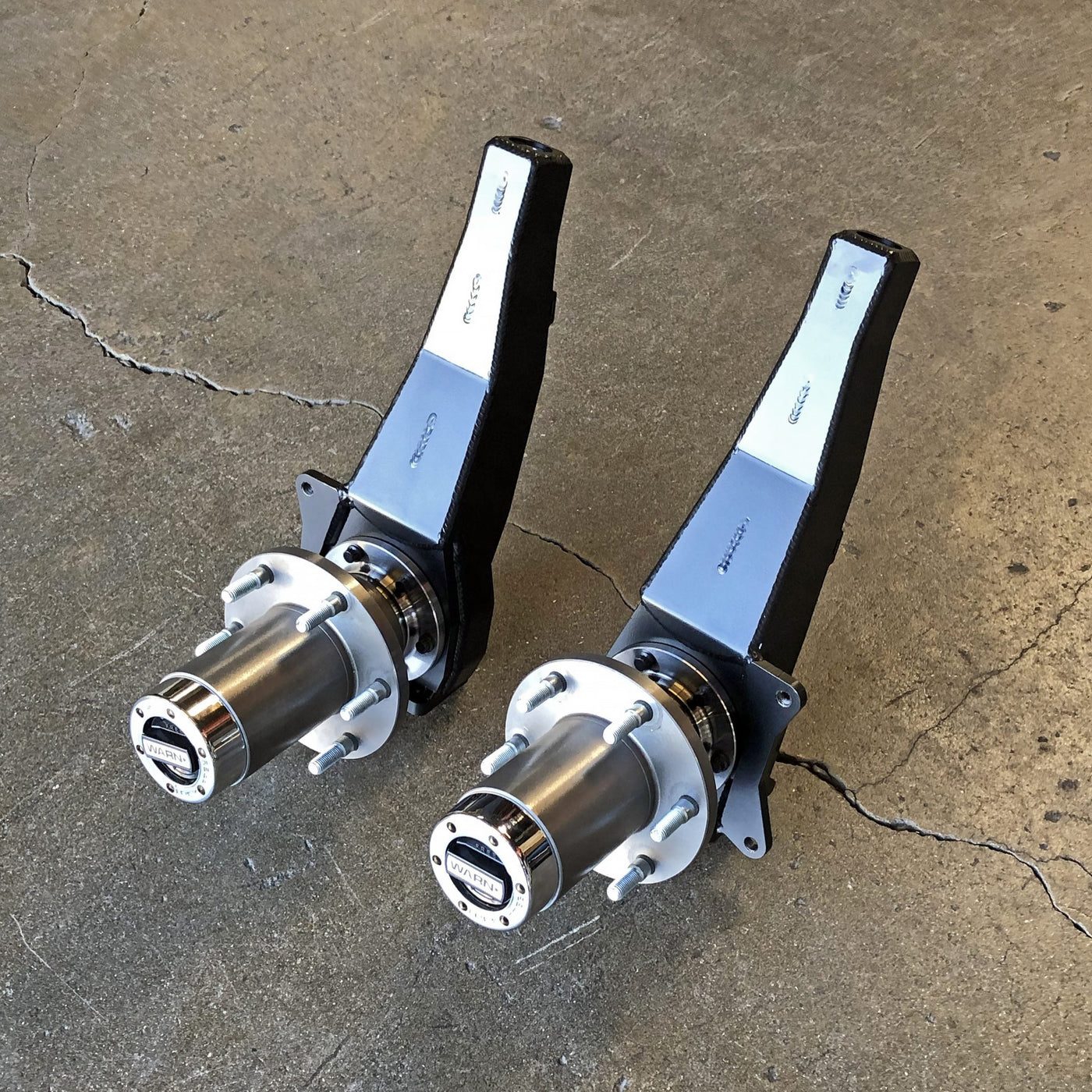 Solo Motorsports
Fully Fabricated Spindles / Toyota Menu
$2,070.00
These Fully Fabricated Spindles are a huge improvement over the factory spindle. Our spindle design fixes the major problems and weaknesses with the factory Toyota spindle.
A new redesign to our spindles now uses a Dana 44 hub assembly, which will make servicing the spindles easier on or off the road. The advantage with the Dana 44 hub is that replacement parts are readily available everywhere. The Toyota wheel bearings are very difficult to replace. The Dana 44 hubs can easily be retightened or replaced on the trail and in your own garage.
These Fully Fabricated Spindles will work with the factory Toyota lower ball joint. However we recommend upgrading to our Toyota Lower Uniball Conversion with Steering for a bulletproof suspension setup.
These Fully Fabricated Spindles will work with any Long Travel or Mid Travel setup, as long as a 1" uniball is utilized at the UCA (this is what virtually all shops use to make their Toyota uniball UCAs).
The Toyota Fabricated 2WD lift spindles will improve on and off-road handling by increasing the track width 2″ per side. The Fabricated Spindles will gain more ground clearance. These spindles do NOT require you to compress the coil spring to achieve a higher ride height.
These Fully Fabricated Spindles require an aftermarket upper control arm with a 1″ uniball. Any uniball UCA will work, not just Solo UCAs.
4WD spindles require a separate purchase of FULLY CUSTOM RCV Hybrid Axles / $2295 / Call for details, or tap HERE to add them to your order.
Variations
2WD

 

Fully-Fabricated 3″ Lift Spindles 1st generation Toyota Tacoma/Tundra/Sequoia
4WD

 

Fully-Fabricated Spindle 1st generation Toyota Tacoma/Tundra/Sequoia (stock geometry, no lift)
Application
1996-2004 Toyota Tacoma 2WD and 4WD
1996-2002 Toyota 4Runner 2WD and 4WD
2000-2003 Toyota Tundra 2WD and 4WD
2004-2006 Toyota Tundra 2WD and 4WD (see Notes below)
2000-2007 Toyota Sequoia 4WD 

(see Notes below)
Toyota Fabricated Spindles Details
Works with factory coil-over shocks (with or without a lift spacer)
Works with aftermarket coil-over shocks
Powder coated Semi-Gloss Black
Dana 44 Hubs
All Grade 8 Hardware
Factory steering can be retained
New inner (4WD) and outer dust seals
Easy bolt-on installation
Add-ons
Extended Stainless Steel Brake Lines from frame to calipers
Notes
All variations require 1" Uniball Upper Control Arms
Late 2003-2006 Tundra and 2003-2007 Sequoia require the 1″ Lower Uniball Conversion. Confirm which LBJ design you have before ordering.
It is NOT recommended to downgrade from a Big Ball Joint Lower Control Arm on a late 2003-2006 Tundra and 2003-2007 Sequoia.
4WD spindles require the separate purchase of RCV Hybrid Axle Package / $2295 / Call for details.
**Limited Lifetime warranty through RCV (some

 

restrictions

 

apply)**