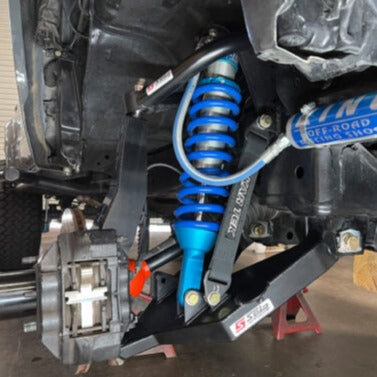 Solo Motorsports
Long Travel Kit / Tacoma 96-04 & 4Runner 96-02
$2,930.00
The Solo Motorsports Long Travel Kit for the 96-04 Toyota Tacoma and 96-02 4Runner will achieve 14″ of fully-functional 2WD or 12.5″ of travel for 4WD kits. Combine this 14″ long-travel kit with our Fully Fabricated Spindles, 1″ Lower Uniball Conversion with Heim Steering upgrades and your Tacoma or 4Runner's strength and durability is greatly improved.

NEW Lower Control Arms (Version 2) push the lower ball joint forward 1″ to help clear for 35-37″ tires. The new arms are designed with high ground clearance. Increasing the distanced from your suspension and ground. New pictures not yet added.
We took it a step above our competitors and made ¾" heims standard on the UCAs included in this kit! This will help to align your truck, even if you have a worn and fatigued frame.
Our Toyota W-I-Y UCA Double Shears are not included but highly recommended in order to keep the cross shaft bolt from bending during hard driving.
If you have a 4WD truck, but you'd like to upgrade your axles to RCVs, select the 2WD option and then add these RCV Axles for Solo Kits to your cart
Recommended grease for bushings – Maxima Waterproof Grease
Application
1996 to 2002 Toyota 4Runner 2WD/4WD
1996 to 2004 Toyota Tacoma 2WD/4WD
Specs
14" of wheel travel 2WD
12.5″ of wheel travel 4WD
3 1/2″ per side increased track width
Fits 35″ tire size
Fiberglass required: Yes
Black Semi-Gloss Powder coated finish
Extended Front Brake Lines
2WD/4WD compatible
Upper Control Arms with 3/4″ heim pivots and 1″ uniballs
Built in strike pads on Lower Control Arms for bump stops
Lower ball joint is pushed forward 1″ for better firewall clearance
Dual lower shock mount on the LCA to run a secondary shock
Extended Front Brake Lines
MIG welded construction
4130 Chromoly 1″ uniball cups
Made in the U.S.A
Long Travel Kit Includes
MIG Welded Tubular Upper Control Arms
MIG Welded BOXED Lower Control Arms
FK 3/4″ heim pivots
FK 1" uniballs
Polyurethane bushing pivots with center sleeves
Machined Zinc Plated Steering Connectors
DOT Stainless Brake Lines
Limit Straps with weld-on frame tabs
Upper Shock Coil Bucket Adapters for 8″ stroke coil over shocks*
Grade 8 Hardware
17-4 Stainless Steel Misalignment Spacers
Extended 4WD complete axle package (ONLY FOR 4WD KITS)
Notes
2.5 x 8″ stroke Coil-over shocks

 

not included.