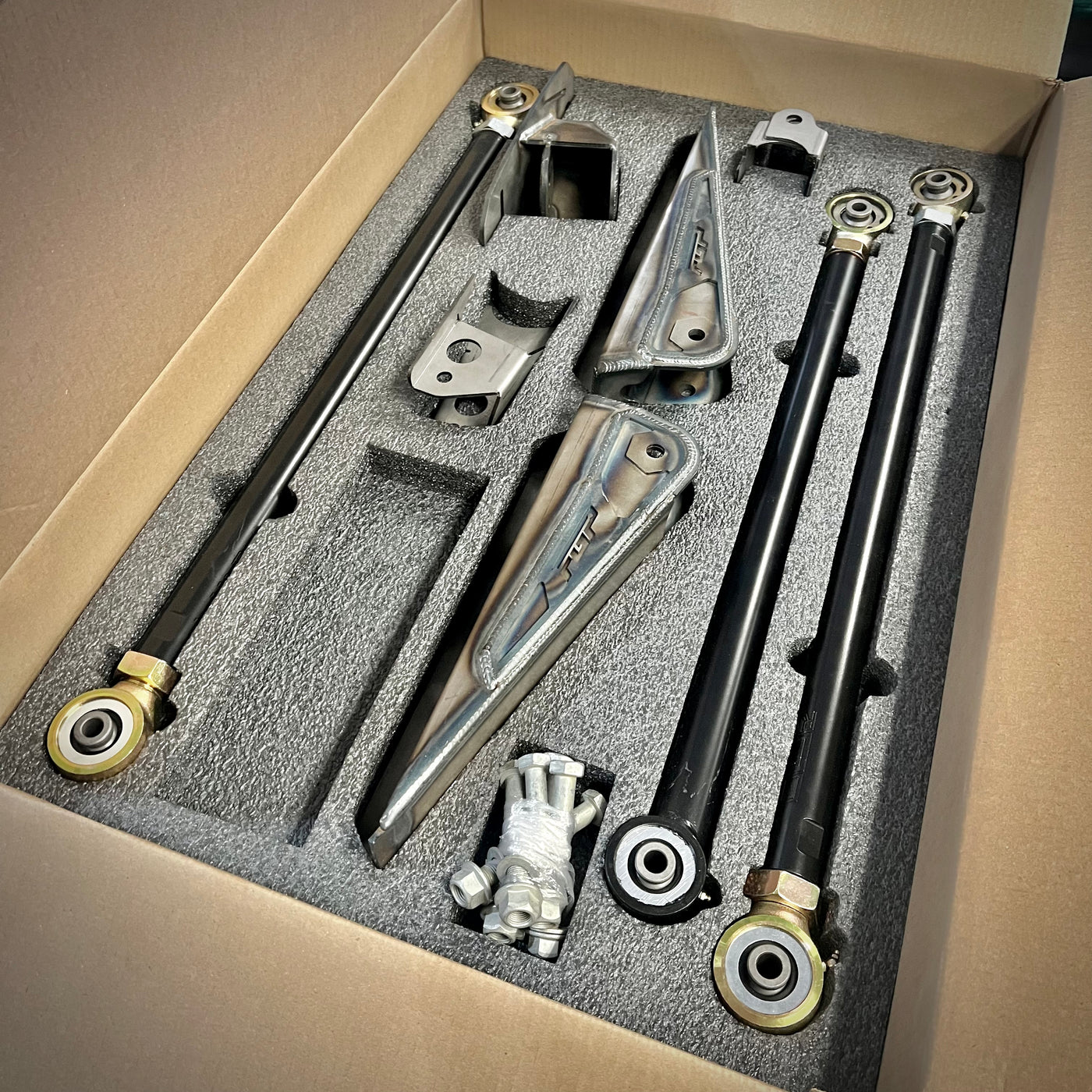 Freel Good Performance
96-02 4Runner Long Travel Rear 3-Link Kit (LT3)
$2,200.00
Current lead time 8-12wks.

Finally a comprehensive, user friendly kit that converts your 3G4R's rear end to a true long travel setup! FGP's Rear 3-Link kit, dubbed the LT3, includes everything you need to get rid of that limiting, stubby factory rear link geometry.
While this kit is capable of achieving huge travel numbers (depending on shock setup, of course), its primary function is to dramatically improve performance and ride quality, on and off the dirt. And unlike other rear LT setups, it does NOT require a gas tank relocation or any cutting into your valuable trunk space. You'll be able to pass emissions, load your trunk full of gear, and still get rowdy on the trails! You will also be able to keep your rear sway bar. The only thing needing a rework is your muffler.
Install process: Rear long travel does not get any easier than this. The LT3 is completely "plug and play", with ZERO math or measuring involved for the installer! It reuses the factory axle mounts and coil perches, while relocating the frame mounts further forward with much longer arms to accommodate. FGP has designed the new frame mounts with indicator holes that line up with existing holes on your frame, making mount placement a breeze. The upper link bracket includes two anti-squat options, depending on your preference. Install instructions will be included, and a video is in the works.
Compatible shock layouts: While the LT3 was originally designed with the OSR in mind, it works with factory mounted shocks, outboard mounted shocks, or even custom coilover setups etc. The point is, your link geometry is no longer the limiting factor for shock length or suspension travel!
What's included: All weld-on parts come fully fabricated, ready to install. All bolt-on parts come assembled, powdercoated, ready to install. Kit includes:
FGP frame-side lower link mounts
OPT double adjustable lower arms
FGP frame-side upper link mount
OPT single adjustable upper arm
FGP axle-side upper link gusset
Eimkeith ULR (passenger side)*
FGP lower link reinforcements*
All hardware needed for install
FGP & Opt Offroad decals
*Optional (in case you already have it)
Recommended Additions:
Shock Setup:
Supportive Mods: