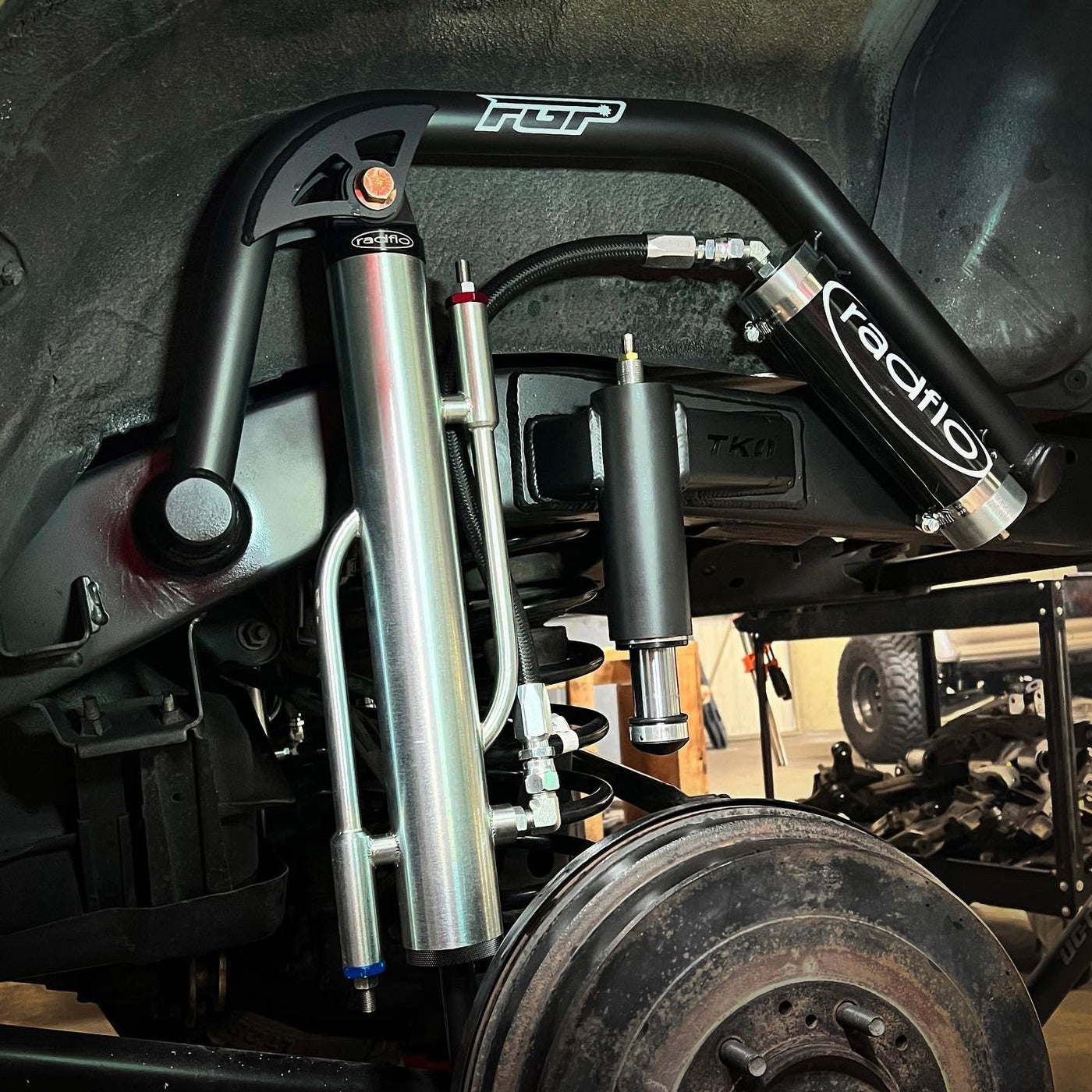 Freel Good Performance
Outboard Shock Relocation (OSR)
$369.00 $0.00
Introducing the best shock relocation kit on the market for 3rd Gen 4Runners and 1st Gen Tacomas. More models coming soon!
Have a body lift? The OSR+ is for you! Read through the information in this page, then tap HERE to check out the Extended OSR kit.
View your shock choices here: SHOCKS FOR YOUR OSR!
OR you can go big: BYPASSES FOR YOUR OSR!
The problem: If you've ever worked on the rear suspension of a 3rd gen 4Runner or 1st Gen Tacoma, you know how frustrating it can be to remove/install the shocks. Unlike newer models, the older generations' rear shock mounts are tucked way up inside the frame. This limits the size of the shock you can fit. It also means that the shocks are mounted at an angle, which reduces shock efficiency and performance. Not ideal!
The solution: The OSR moves the shocks where they should've been in the first place, to the outside of the frame. It also comes with lower shock tabs that replace the stock lower mount. This allows for longer shocks, makes install and removal a breeze, and greatly improves the efficiency and performance of the shock! The cherry on top is that you'll be saving money on your shock purchase, since universal smoothbody shocks tend to be much cheaper than "factory replacement" shocks.
The OSR improves on other outboard kits in more ways than one. In addition to the higher strength DOM steel, the FGP kit utilizes frame plates to add load bearing strength at the mounting points, as well as radius'd upper mounts to give more weld surface and strength than your typical outboard hoop. Also, many outboard kits simply move the shock mounting location without increasing actual suspension travel. On the other hand, the OSR is designed to achieve as much suspension travel as possible within the safe limitations of factory suspension geometry.
The OSR is designed to be compatible with any spring and smoothbody shock with a 10" or 12" stroke, though the ideal OSR setup will be a 12" shock. A 10" shock works, but will sacrifice wheel travel and is only recommended for 0-2" lift. For shock diameter, a 2.5" is best, but will require frame modification and potentially more wheel backspacing. 2.0" diameter shocks do not require frame modification. Recommended additional parts for 4Runners: tall springs (LC 7 or 8 wraps for lighter trucks, OME 861s for heavy trucks), DuroBumps 5.25" and Opt Offroad rear control arms. For Tacomas, a taller leafpack (or at least an add-a-leaf), and a set of DuroBumps 4.25" will do the trick. Make sure your ideal/planned bump stop setup is already in place before OSR install!
For 2.0 shocks, a minimum 3.5" wheel backspacing is recommended for tire clearance. Example: if you have 4.5" BS wheels, you will need 1" spacers to bring it down to 3.5". 2.5in shocks require minimum 3" backspace.
What's included:
Upper shock hoops
Upper shock mount tabs 
Frame plates & end caps
Lower shock mount tabs (4Runner kit)
Lower shock towers (Tacoma kit)
Options:
Weld it yourself, or have it shipped pre-assembled for $200.
Add reservoir mounts & hardware for $29.
Add frame notch plates (for clearing 2.5" diameter shocks) for $29*
Current Lead Time:
WIY kits: 4-8 weeks. Preassembled kits: 6-12 weeks. ALL SALES FINAL.
If you would like to arrange for pickup and/or install at FGP in Montclair, please let us know in the order comments (or contact us before ordering) and we will send you a custom invoice. Thanks!